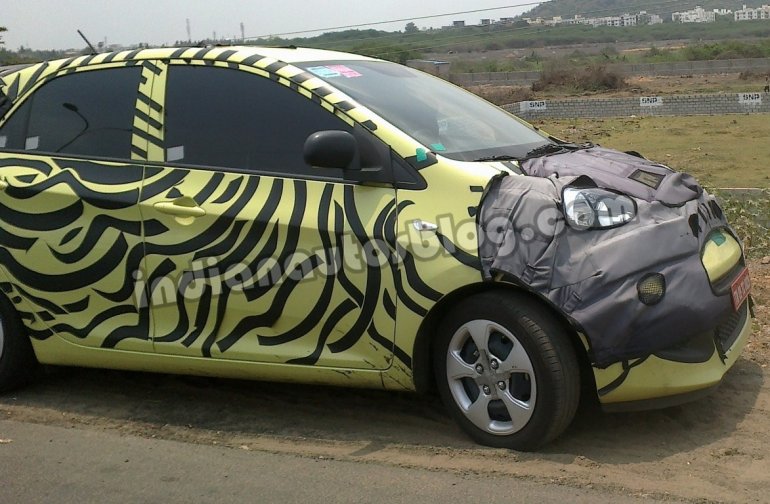 Our daily visitor Ben who spotted the mini Mahindra Xylo a few weeks back (and many others in recent years) encountered another one this past weekend.
He's come to us with a picture of the Kia Picanto testing on the highways of Chennai. IndianAutosBlog.com readers know the Picanto's history in Chennai. It started testing without camouflage late last year and when images of it appeared all over the internet, Hyundai-Kia quietly adorned it with camouflage.
We then speculated on the possibilities with Picanto in India and as we all know there's no Kia in India for the Picanto to be sold. Hyundai's having enough troubles meeting demand for diesel cars and adjusting to this sudden shift away from petrol models. The Eon and Sonata are new launches and they need balancing wheels until they can ride on their own.  The last thing they want now is to launch a new brand even though the Picanto is a cousin to the i10 that is localized heavily and has already formed a swarm of fans.
When Ben came to us with the Kia Picanto's image, we were determined to solve this puzzle. We did not hire ACP Pradyuman for this as our reader Aditya Singh suggested! Through some of our sources we're able to tell you that the Picanto is testing a petrol engine, of 1-1.2L displacement. The engine is suspected to be the 1-liter Kappa engine Hyundai introduced on the i10 for the European market during the facelift operation about two years ago. The camouflage could be a deliberate ploy to confuse onlookers or to stop further speculation that Kia is planning an India foray.
We're told that Hyundai had brought this car from Korea (LHD model) to test the powertrain in Indian conditions. They have no plans to launch the Picanto in India as they have their hands full. We are unable to verify this information but we're trying to learn more on it.
An interesting observation is the car's side mirrors exclusive to the mule - they are borrowed from the Santro.