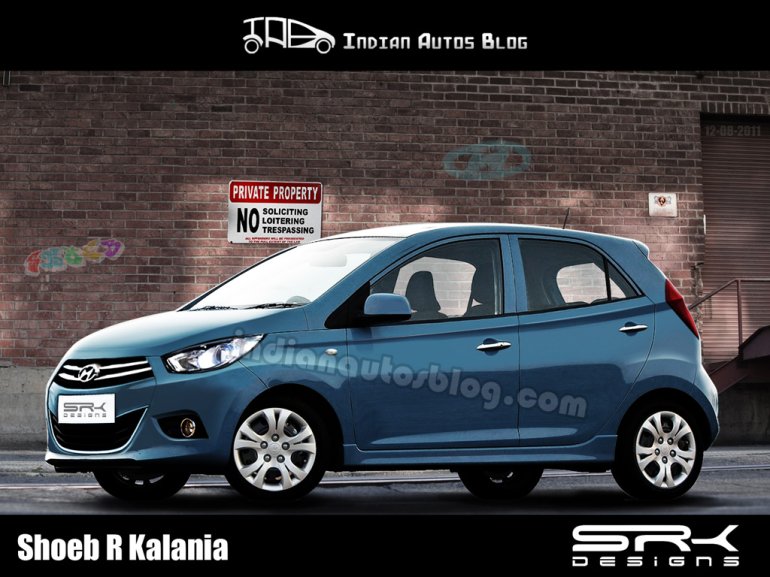 Some of the world's smallest cars and bikes, small in terms of both size and engine capacity are found right here in India. We are not believers of the line 'the more the better' in any from unless it's about say gas mileage.
If you go back to the late 90's, 800cc was adequate and anything above that was a luxury and sometimes unnecessary.
In case of bikes, more than 70% of the commuters make do with 100cc and you enter the Premium or Sports category once you cross the 150cc barrier. Even today the scenario with bikes hasn't changed by much.
Sources tell IndianAutosBlog.com that the country's second largest car manufacturer Hyundai plans to bring back the 800cc car in late October.
You have already seen spy pics along with the lowdown on the interiors. To help out our existing readers, we'll go through the details of the Hyundai HA again -
Fully loaded variant has beige interiors, air conditioning, power steering and two tone dashboard.
Material quality, fit and finish will be nearly as good as i10. Despite being a low cost car, the instrument panel is placed behind the steering wheel and not in the center.
A coin tray sits above the glove box, like on the Figo.
HA has CD/MP3/USB playing capability. The buttons, arranged in a V shape are finished in grayish silver.
AC control knobs will be dial type (read like i20). The primitive twist type has been ignored but continues on Santro.
Height adjustable head rests for front seats and an integrated head rests on the rear are present.
A three-dial layout with the speedo residing in the middle, engine temperature (digital) on the left and fuel quantity (digital) on the right are present.
Two windshield wipers are installed at the front unlike the low cost Nano's single wiper.
Electronic Power Steering will be fitted for better fuel efficiency
The i10's steering wheel has been carried over
Front windows are electrically powered and rear windows will be manual.
The angle of the rear windshield will generate a slight amount of extra boot volume.
Would the HA be an answer to many needs in India? The Indian consumer, though is interested in small, isn't interested in a basic or no-frills car. Especially at the bottom of the pyramid, that tendency was observed with the Nano. Majority of the bookings were made for the higher-end models.
From the spyshots, we infer that the "junior i10" will fall between the Nano and the Santro in terms of size. Hyundai is one company which has gained the trust of the Indian consumers as we have shown huge interest in expensive cars like the Verna and Santa Fe.
Can the HA slowly send the Alto packing? With the fluidic design language, loads of features, well constructed beige interiors and more mileage, will it make the Alto look a little pointless?