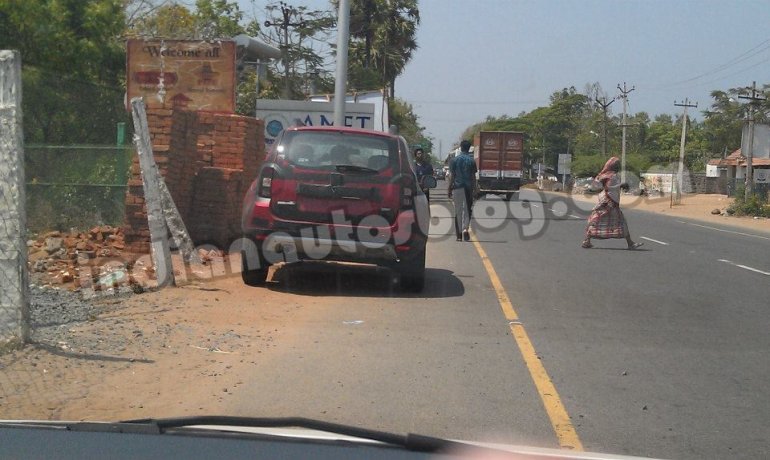 IndianAutosBlog.com reader Fawaz Khan photographed a woefully conditioned Renault Duster on the ECR (East Coast Road) connecting Chennai and Pondicherry. We'll excuse Renault for not giving such an important model a wash as long as they test it in places where our readers can easily snap pictures of them.
:D
The Duster is preparing to come out before Diwali though its official website may bluff a June 2012 launch. A top Renault India official said the fifth car to their lineup, a sedan (redesigned Sunny) is another 2012 arrival, on the heels of the Duster's introduction.
We're awaiting more information on the variants, what we do know is the substitution of the 1.6-liter petrol engine offered in Europe with the locally manufactured 1.5-liter petrol (HR15DE) borrowed from the Sunny is in the view of providing a more fuel economical model.
The manufacturing plant in Chennai rolls out a Dacia-badged model with 4X4 for Britain, but its availability is doubtful in the domestic market. Renault could manufacture Duster diesel variant in two states of tune - first is the 85 PS version that is highly fuel economical alongside a 110PS variant deploying the Fluence's engine that benefits from the inclusion of a low inertia turbocharger. Here again we're scratching our heads whether it heads to Milton Keynes or to Mount Road.
Stay with IndianAutosBlog.com as we put more pieces of this jigsaw together.