With an average monthly sale of 1,873 units between August 2018 and January 2019, the Mahindra XUV500 is among the highest selling models in its price bracket. The 7-seater SUV has even been modified by some of its owners. Here are as many as ten examples of a modified Mahindra XUV500 from various locations.
Monster XUV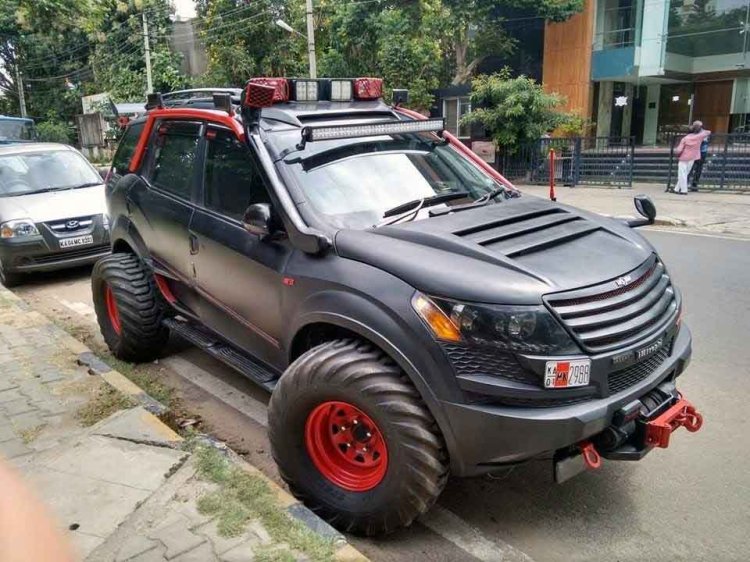 The modified Mahindra XUV500 seen above is easily the boldest example we've seen so far. It carries various upgrades, which give it an almost monster truck-like stance. The front-end features a custom bumper with an electric winch, while the side profile sports off-road-spec wheels shod with massive tires. Other highlights include a LED light bar, external roll cage, matte black paint and a custom hood.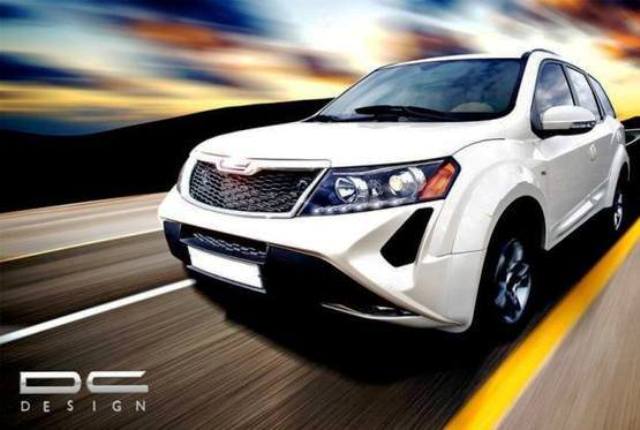 This Mahindra XUV500 is among the many models that have been modified by DC Design. Based on the first version of the SUV, the DC-modified SUV features a set of new bumpers and a wire mesh grille. Changes to the interior, however, are far more comprehensive. The cabin gets a lounge-like ambience with two captain chairs having replaced the stock middle and last row of seats. The rear passengers also get a personal entertainment screen.
Modified Mahindra XUV500 from Motormind

This modified Mahindra XUV500 looks a lot sportier than the stock version due to its custom body kit from Motormind Automotive. This makeover costs in tune of INR 1.58 lakh and the kit comprises a new front bumper with LED DRLs, a honeycomb grille, and a faux hood scoop. Other customisations include a matte black wrap, custom alloy wheels, a new rear bumper and a rear spoiler.
Touring-ready modified Mahindra XUV500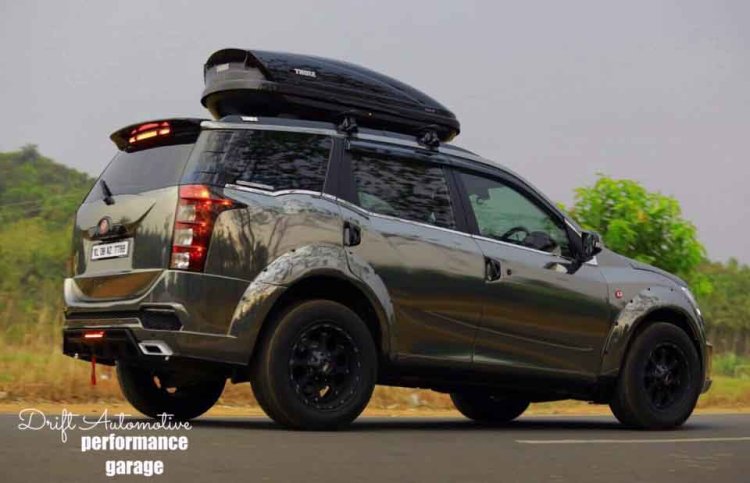 The Mahindra XUV500 is among the most comfortable highway cruisers in its price segment. Seen above is a modified Mahindra XUV500 that comes from Drift Automotive. It comes with a body kit that comprises new bumpers, new headlamps, and a roof spoiler. The highlight, however, is the roof-mounted luggage box that boosts the SUV's luggage-carrying capacity. Another talking point is the black chrome wrap.
Wrapped Mahindra XUV500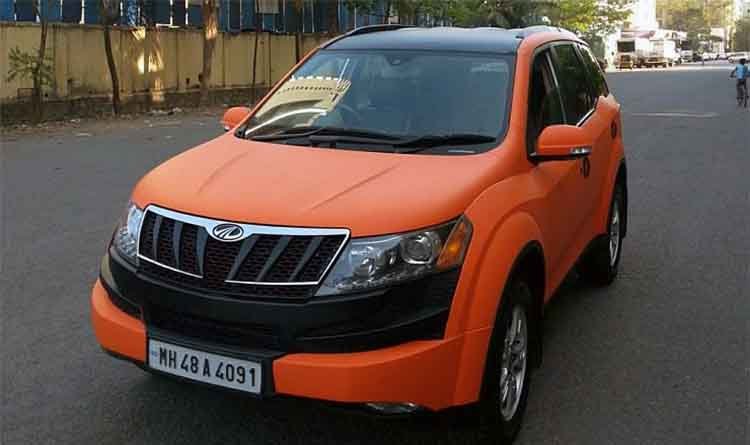 Car wraps are fast gaining popularity in India as they can transform the looks of a vehicle without affecting its original paintwork. What's even better is that the vehicle owner can easily switch back to the factory condition. Here is a wrapped XUV500 that looks fantastic in the two-tone orange-black combo. Based on an earlier version of the SUV, this wrapped vehicle can quickly catch a lot of eyeballs on the street.
Modified Mahindra XUV500 by Autographix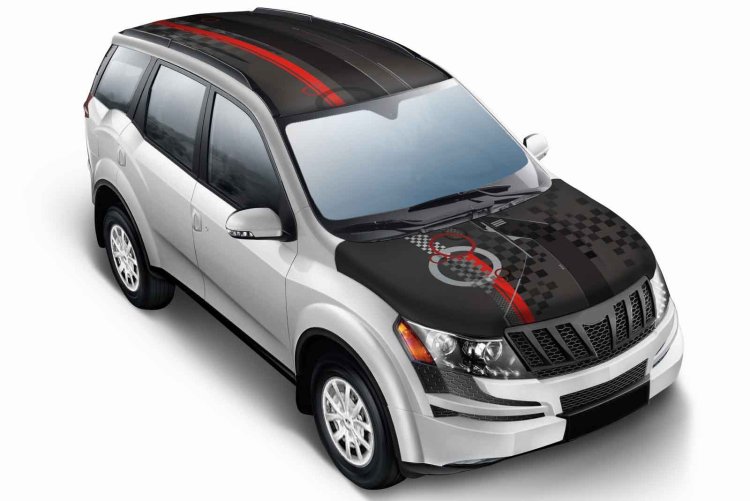 Autographix offers a choice of hood and roof wraps for the Mahindra XUV500. While these wraps do not make a big difference to the way the SUV looks, they can be used to lend a personal touch to the vehicle without making a big investment.
Official Mahindra XUV500 Modification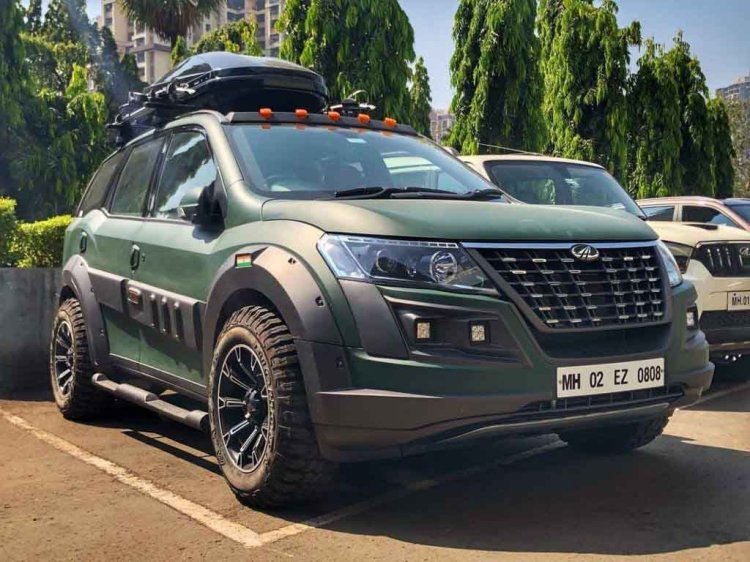 Mahindra is among the few Indian carmakers that offer in-house customisation options. The modified Mahindra XUV500 seen above is one such vehicle, which has been prepared by the Mahindra Customisation wing and has been dubbed 'Moonraker'. It is based on the latest iteration of the popular SUV and carries various cosmetic updates that make it look bolder. Up front, it features two pairs of LED lights, while the roof carries dune lamps. This XUV even gets new alloy wheels that have been shod with wide off-road-spec tires. The second and third rows have made way for a pair of electrically adjustable captain seats that are draped in Nappa leather. The interior has been kitted out with a smart TV, a refrigerator, 12V charging ports, a Rolls Royce inspired roofline, PlayStation 4 console, and a WiFi system.
Mahindra Super XUV500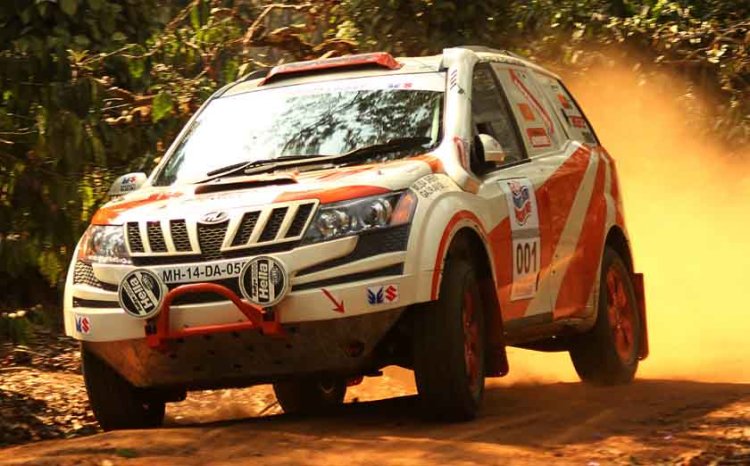 The Mahindra XUV500 participated in rallies. The official entrant from the carmaker has been named 'Super XUV500', and it features racing seats, a roll cage and various performance upgrades, including a retuned ECU, free flow air filter, and a performance-tuned exhaust.
Modified Mahindra XUV500 with scissor doors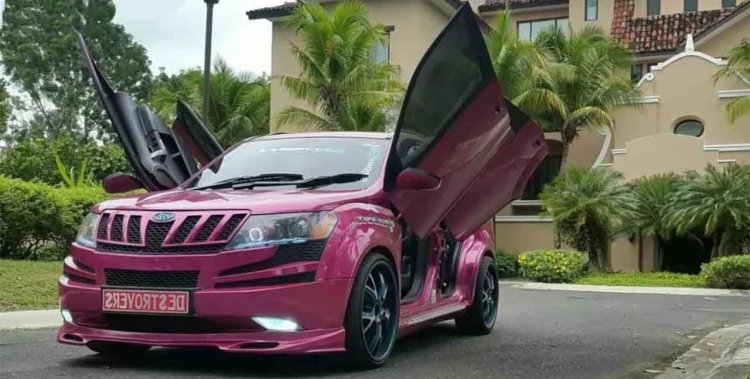 While scissor doors can be found mostly on flashy lowrider coupes, here is a modified Mahindra XUV500 that gets the same arrangement for both its front and rear doors. Other than the flashy doors, the modified SUV even gets a lowered suspension, larger rims shod with low profile tires and a sporty body kit.
Modified Mahindra XUV500 with two-tone wrap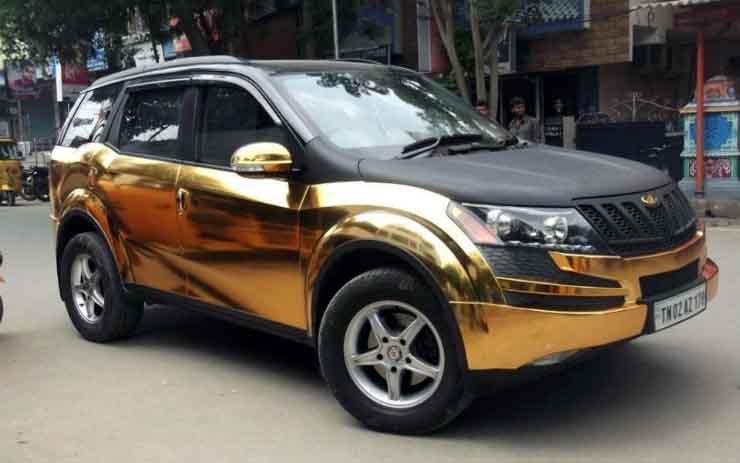 While gold chrome wraps are a common sight in the Middle East, hee is a modified Mahindra XUV500 from Tamil Nadu that comes wrapped in a gold and a matte-black vinyl for a distinct two-tone finish.