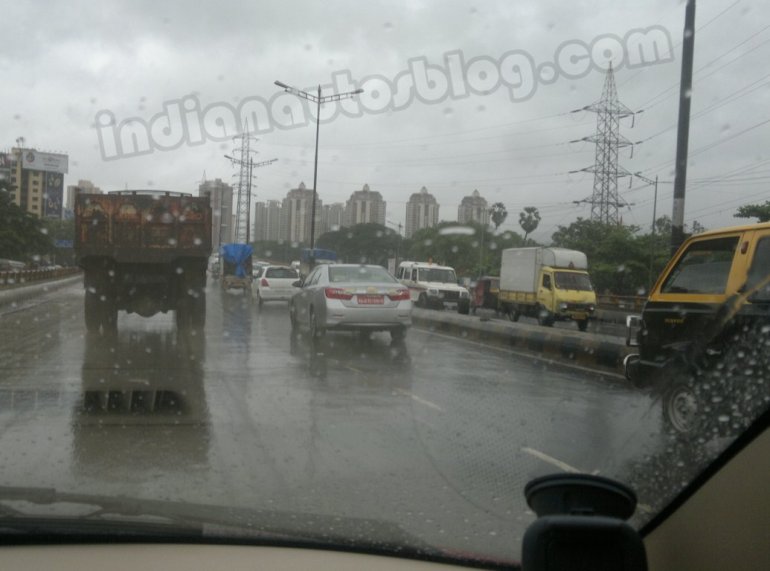 If not, it began raining when the Camry was testing out.
This photograph was sent in by our reader Avinash from the Western Express Highway in Kandivali, Mumbai. The new Camry was revealed at the 2012 Delhi Auto Expo for the Indian market.
When we met Toyota Kirloskar Motor's higher officials at the commencement of exports of Etios to South Africa, we were informed that assembly of the new Camry will begin in Bidadi in July and sales start in August (three years after TKM launched the Camry facelift).
Two big problems that come in the way of the Toyota Camry
The lack of a diesel engine means the ambition of Toyota remains the same as it is now - 300 units/year or so and nothing more.
Toyota officials already hinted that the excise duty hike will influence the price. Toyota cannot price the Camry like the way they envisaged when the car was brought to the Auto Expo.
Who are the Camry's prospective customers?
There are Camry loyalists in India who have driven the car during their overseas assignments. For them, nothing else matters. The first thing on their to-do list as the plane lands in India is buy a Camry.
Existing customers who have been spoilt by the luxury of the Camry's rear seat would exchange their old Camry for the new model
Then there are Toyota enthusiasts who don't know or acknowledge Skoda, Volkswagen, Nissan or Honda. This is another set of Camry buyers. They have enough money to buy a D+ sedan, and as there are no options in the market, they have to buy a Camry.
Finally there's a class of buyers who have had horror stories with rival brands at the service centers. Toyota's service quality is rated as one of the best in India. This is a crowd-puller and so is the pride in owning a second Toyota, let's not forget them too.
Toyota has to be working on a diesel engine as the Camry's not going to make any significant improvement from its current position. But TKM is helpless as there is no diesel Camry anywhere in the world.