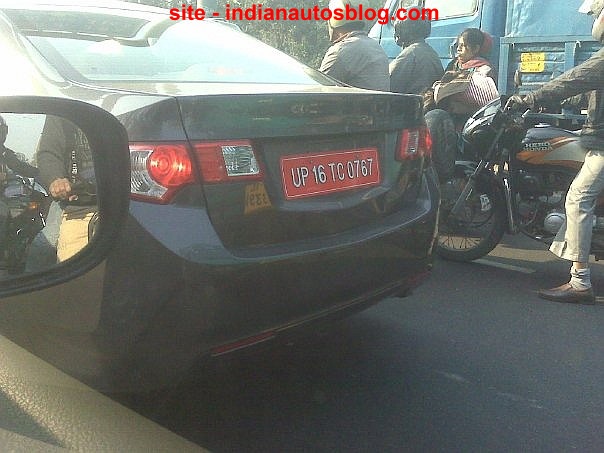 A diesel version of the Honda Accord has been spotted testing in the suburbs of Delhi by eagle-eyed Rahul Kohli. Though the diesel version is good news, the Accord being tested however is not the American Accord, but the European/Japanese Accord, which means this car is not coming to India. But the engine might.
So this begs the question about why Honda is testing this car in India. Our estimation points to the notion that Honda is testing its diesel engines in a market which it considers, has the lowest quality diesel. Diesel engines are certainly not Honda's cup of tea, the 2.2l i-CTDi diesel engine that does duty on the European Accords, CR-Vs and Civics is Honda's first ever attempt at making a diesel engine.
This diesel engine (specifically the high pressure injector) is said to be extremely sensitive to the diesel fuel quality and the inability of Honda to tune down the engine to run on lower quality fuel is the main reason for Honda not introducing diesel versions of the CR-V, Accord and Civic in India.
Honda is even developing new small displacement diesel engines and announced that these engines could come to India in the future. This diesel could power Honda's upcoming small car, the Honda Jazz and the City.
Honda is testing a car which is not coming to India, with a diesel engine that it wouldn't offer in India, in India. These guys do have a good sense of humor.
We guess Honda could be trying to right its wrongs with the next generation Accord that is due 2013. Or even earlier with the ninth generation Honda Civic coming in 2012.
Thanks for the images Rahul!
European Honda Accord with diesel engine spied