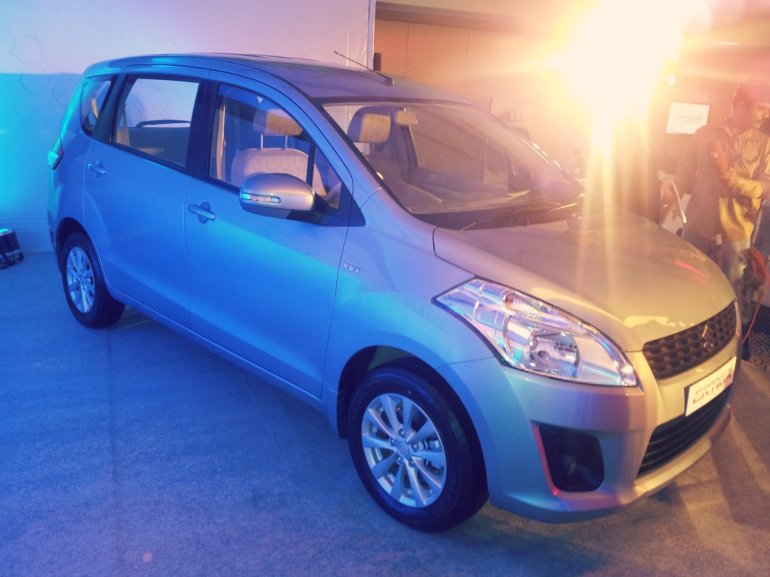 After creating a storm in the Indian market with almost 32,000 bookings within 30 days, the Maruti Ertiga, shipped to Indonesia from the Indian factory, has created the exact same situation.
The new 5+2 seater MPV from Suzuki has been declared a success in the Indonesian market. As per reports in the online media, over 12,000 units of the Maruti Ertiga have been booked within weeks of its launch.
At this point we have to mention that the booking amount is around 5 million Indonesian Rupiah (IDR) (appox INR 30,000).
There are three models of the Ertiga petrol offered with manual transmission, priced as below:
GA 143 million IDR (approx. INR 8.5 Lakh)
GL 153 million IDR (approx . INR 9 Lakh)
GX 165 million IDR (approx. INR 9.8 Lakh)
It seems like the number of bookings are only going to rise in this market and a long waiting period would set in. Maruti may have a much reduced demand for the Ertiga petrol in the Indian market after the announcement of the price hike. Could the additional stock of the similarly spec-ed models be shipped to Indonesia and help them reduce the waiting periods?
Out of the three available options, customers prefer the fully loaded GX variant, while GL is the second most preferred choice. There are very buyers for the GA version, according to OkeZone's report.
Maruti Ertiga Walkaround video
After checking out the result of  this bold move by Maruti of introducing a mini MPV, it seems Honda too wants to now introduce a competitor for the Ertiga and can bring in the Freed MPV that is based on the Jazz platform. What Honda right now needs is a reliable small Diesel engine before getting any more models in the country.
[Inputs: OkeZone.com]