Both the 1.99L (sold in Delhi NCR) and 2.2L variants now only come equipped with a 5-speed manual gearbox.
Mahindra has removed details as well as pricing of the Mahindra Scorpio Automatic variant (exclusive to the S10 2WD and 4WD variants) from its microsite, as well as confirmed through the Scorpio's official twitter handle that the variant has been discontinued.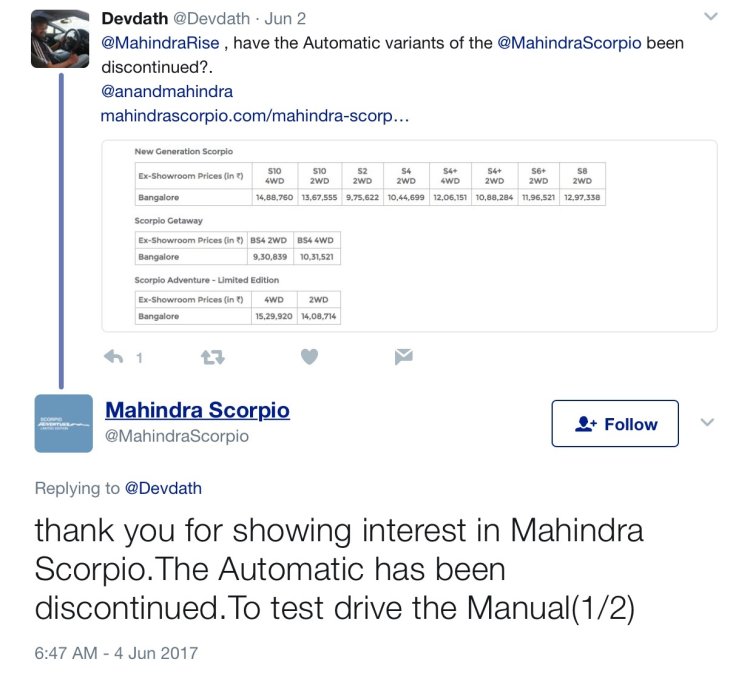 It's unclear as to why the automatic variant has been abruptly discontinued, but several reasons that come to mind include poor demand, component sourcing issues or that Mahindra is readying a new automatic variant with a new 6-speed automatic gearbox. As Mahindra have commenced development on a mid-cycle refresh for the Scorpio, the lattermost reason has more weight. There were also reports in 2015 - 2016 of Mahindra planning to introduce a new 6-speed Aisin automatic gearbox in the Scorpio.
Up until its discontinuation, the Scorpio AT had a 6-speed torque converter from DSI, while its close sibling - the XUV500 - with the same engine (transverse mounted and slightly more powerful) had a newer generation, more refined 6-speed Aisin automatic gearbox. So, for the facelift, Mahindra could source the 6-speed Aisin automatic gearbox for its longitudinally-mounted motor, which is rumoured to be the mHawk 140 2.2L turbodiesel 4-cyl engine that produces 140 bhp and 330 Nm (and the XUV500 moving to the mHawk170 configuration).
Also Read: Tivoli-based Mahindra S201 to get new interior & exterior style – Report
The mid-cycle refresh is the first major update to the second gen Mahindra Scorpio since its launch in 2014. It could arrive in showrooms later this year or early next year.