Will be assembled in Brazil with components from India.
In response to concerned prospective customers of the Renault Kwid in Brazil, Renault Brasil has confirmed that the Kwid will be offered with four airbags and ABS. The Brazil-spec Kwid could be launched at the 2016 Sao Paulo Auto Show in November.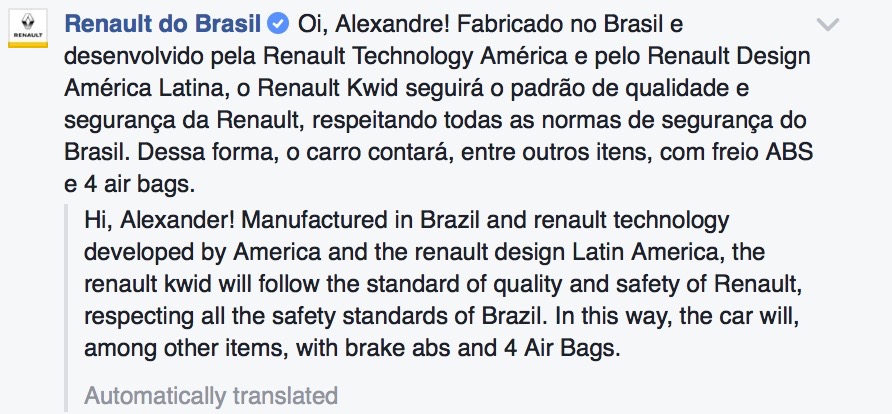 The concern arose from the Global NCAP safety rating of the India-spec Renault Kwid which, despite being offered with a driver's airbag, was awarded zero stars. Renault Brasil does state that the Renault Technology Americas (RTA) and Renault Design Latin America (RDLA) have had a hand in developing the local-spec model to meet the Latin NCAP's strict safety regulations.
Also, the Brazilian government had introduced a rule in 2014 that airbags and ABS are a must in all vehicles sold in the country. The Kwid already offers a driver's airbag in India, while an ABS can be introduced to the Kwid's braking system, as told to IAB by Gerard Detourbet, managing director of Renault-Nissan Alliance's A-segment Development Unit.
Also Read: Renault Megane sedan, Renault 1 ton pickup confirmed for 2016
Renault have listened to feedback from Global NCAP, and are working on structural modifications to improve their score. Furthermore, the Renault Kwid 1.0L and 1.0L AMT are expected to be fitted with airbags and ABS right from launch, which is expected to take place in the coming weeks.