Speak about art having no boundaries, Brazilian artist Gabriel Arruda has created a cardboard Kawasaki Ninja ZX-10R, which not only looks identical but has functional parts.
Coming from the Dourados/MS region of Brazil, Gabriel Arruda is known for this cardboard artwork. It is not the first time he has created something out of cardboard, with some being musical instruments. That said, the Kawasaki Ninja ZX-10R build was the most time consuming, according to Gabriel. As can be seen in the video, the artist had to make dedicated parts/panels of the motorcycle, which he assembles later.
Such is his creative talent that some of the parts are near identical to the original bike. As said earlier, some of the pieces are functional and operated manually. For example, the motorcycle features functional front and rear suspension, while the brake, clutch and gear levers are operational as well.
Gabriel has designed the fuel lid in such a way that a specially designed key locks it. The rear-view mirrors, rider and pillion foot pegs, accelerator and even the switchgear, are all functional. According to Gabriel Arruda, the whole process is very time consuming and need a lot of dedication, patience, and hard work.
According to Gabriel, he had to redesign some parts of the fairing and body panels to make the Kawasaki Ninja ZX-10R look proportionate. He reveals that the making of the disc brakes required a high level of skill, while the three feet and two inches long chain is made of firm paper cut-outs and attached with the help of barbecue skewers.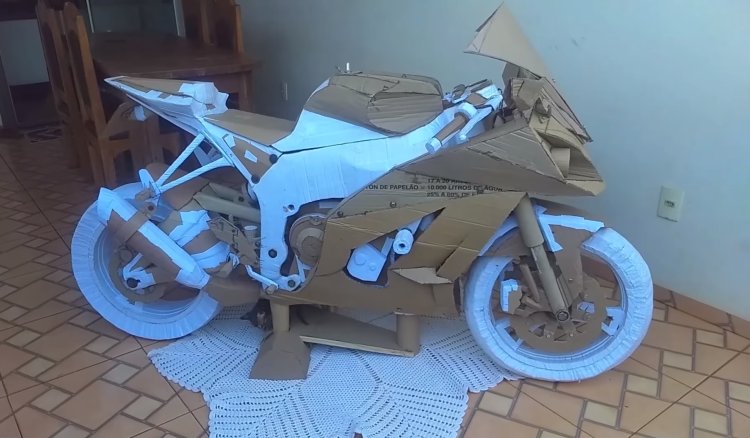 Also Read: Locally assembled Kawasaki Ninja ZX-10R sold out in India - Report
That said, the Kawasaki Ninja ZX-10R is a litre-class Supersport that competes with the likes of Ducati Panigale 1299, Honda CBR1000RR, Suzuki GSX-R1000, BMW S1000RR and the Aprilia RSV4. The motorcycle sources power from a 998 cc, inline four, liquid-cooled engine that is capable of producing a maximum power of 197 bhp at 13,000 rpm, while developing 113.5 Nm of peak torque at 11,500 rpm, mated to a 6-speed transmission. The Ninja ZX-10R sprints from 0-100 kph in 2.8 seconds, while it features a top speed of 299 kph.