Recently, we have been observing a surge of supercar entries in India. And why not? India is shining and people have loads of moolah to splurge. So when Bugatti launched the Veyron in India, it decided to put a 16 Crore price tag on it.
Aston Martin decided to top that by bringing in the super exclusive One-77 at a mindboggling price of 20 crores – Yes that's 20 with 7 zeroes fish tailing it. Tata Motors decided to top Aston Martin (ahem!) by converting the cheapest car in India into the most expensive one.
Yes, ironically, this Tata Nano is the most expensive car in India. Why you ask? Because it is made with gold and silver, and studded with precious stones. Isn't that the perfect way to celebrate the Diwali spirit ;)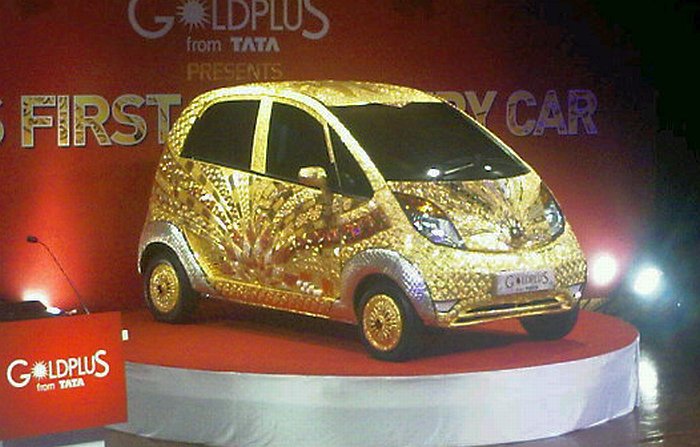 This initiative was taken by by Goldplus Jewellery, part of Titan Industries, to celebrate 5,000 years of jewellery making industry in India. The car's body is made with 80 kg 22 carat solid gold, 15 kg silver, precious stones such as diamonds, rubies emeralds and other expensive gemstones. The level of detailing on the on the body work is absolutely exquisite and is a true tribute to the fabulous art of jewellery design.
But if you are a wealthy businessman and want to buy this Nano, I am afraid you have to settle for the Veyron or the One-77. Unfortunately, this Nano will not be sold and will be only used for promotional activities across Goldplus showrooms at 29 locations around the country.
I guess all that glitters can't be bought :)
Video Credit - NDTV India