At the ongoing India International Security Expo which is taking place in Pragati Maidan, New Delhi, a Tata Nano is being shown as a probable contender for the Delhi Police Control Room (PCR) vehicle.
PTI reports that the car was unveiled to the media by Anil Goswami, Union Home Secretary, who also inaugurated the expo. The Nano in this livery comes courtesy of security firm 'Grand', who are well known for supplying red, blue and other beacons to government vehicles. Grand says that this Nano can be used by lady police drivers to rescue women and children in distress from Delhi streets.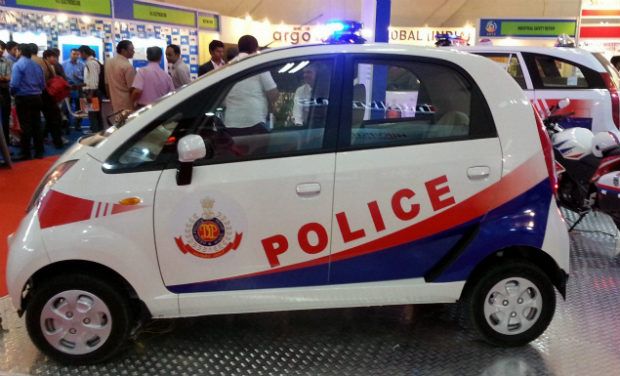 The white-colored Nano, apart from sporting the Delhi Police livery, also comes equipped with some medical gadgets and a first-aid kit. Also added on this Nano are a set of red-blue beacons, a siren and search lights.
Mr. Goswami said that he would ask officials and police forces to give this Nano a look and whether it could be of use to them.
Says Monty Singh of Grand security firm -
We have just launched a concept of using the small car for emergency response instead of the big PCR vehicles being used at present by Delhi Police. We would want the police and other agencies tasked for exigency duties to have a look and see if this fits their bill.