Tata Motors announced the launch of the Tata Nano CNG emax in two variants in Ahmedabad. Powered with an engine that fires CNG and petrol, it has the lowest CO2 emissions among petrol cars of 75.6 g/km and is India's most fuel efficient IC-engined car with a fuel efficiency of 36 km/kg (as per ARAI certification).
CNG is not dispensed throughout India, and hence the car's availability is restricted to places where the fuel is available, such as Delhi, Gujarat, Maharashtra and Lucknow.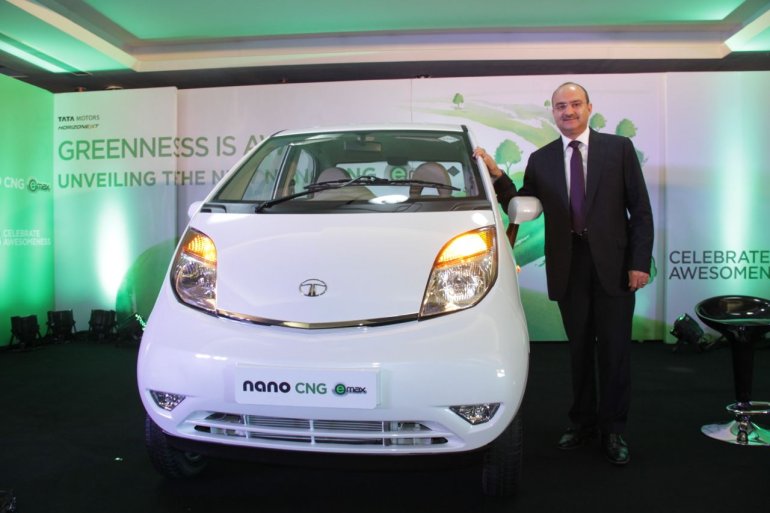 The Nano CNG was unveiled in July at the Horizonext event in Tata's Pune plant and is the first of five brands in the emax series.
Mr. Ankush Arora- Sr. Vice President, Passenger Vehicle Business Unit (Commercial), Tata Motors Ltd -
From its inception, the Nano has been a path-breaking invention and the CNG version only adds to that and also underlines our commitment to be a sustainable automotive player.
The CNG kit is a sequential injection type, and if the system senses that the driver wants more power, it automatically shifts to the gasoline mode. Manual switching from CNG to gasoline or vice-versa can be done on-the-fly. The vehicle can also be started with CNG fuel and automatically shuts down the system if a gas leak is detected.
The CNG tank (4-liter capacity) is installed under the driver seat, thus not intruding into the luggage compartment. The system offers a range of 150km on CNG, in addition to the 375km range on petrol. The 4 year/60,000 km warranty on the car covers the CNG kit.
The Nano CNG is priced at 2.52 lakhs (ex-showroom Mumbai) for the CX model and 2.77 lakhs (ex-showroom Mumbai) for the LX model. The brochure below provides the differences between the variants.
Brochure scans of the Tata Nano CNG emax
Tata Nano CNG emax launched - Press Release
[Can't see the press release here? Head over to Scribd]