Our reader Saahil Kapoor has spotted the RHD edition of the Ssangyong Korando C in a housing complex near Kandivali, Mumbai. Mahindra has not been tight lipped about the Ssangyong models slated for India - the Korando C you see here will join forces with the Rexton (spied in India too) to form the line-up to start with. They have ruled out the Chairman sedan citing positioning reasons.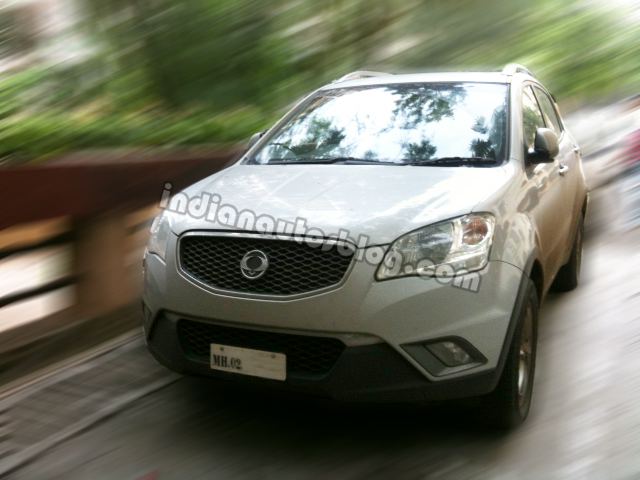 The Rexton will play the butch 7 seat SUV for large families while the Korando C is a crossover vehicle aimed at buyers who opt in for vehicles like Tata Aria, Ford Endeavour and Chevrolet Captiva. Our hunch is that the W201 will sit right above the Scorpio followed by the Korando and topped off by the Rexton. Both Ssangyong cars will be assembled in Maharashtra (Nashik or Pune) from kits shipped from South Korea.
The branding for India is another debate as these are not Mahindras by any stretch of the imagination. Mahindra is likely to leave the Ssangyong badges alone. They could add Mahindra lettering above the Ssangyong on the tailgate like they did with Logan. Saahil says he saw the Mahindra logo above the audio system, which is strange as manufacturers don't use brands or nameplates apart from having one on the steering wheel. We've designed a Korando C with the Mahindra saw-tooth, which seems unlikely at this point.
Ssangyong Korando C promotional video
After seeing these images, Shoeb R Kalania, who spotted the Korando on the Eastern Expressway not very long ago, says this was the same vehicle he photographed. The Korando has good road presence and the style, executed by Italian designer Giorgetto Giugiaro who is behind the Fiat Palio and Grande Punto, it looks nothing like any SUV on the road today.
The new SUV is going to arrive from Pyungtaek, South Korea in the form of kits. Maharashtra will be the third assembly site as the Korando C is already being assembled in Moscow and Ukraine. A 2.0-liter turbodiesel paired to a 6-speed manual transmission is offered while an automatic they say is in the pipeline. Diesel will be the no-brainer for India, while automatic transmission, though not very popular, is crucial for broader appeal.
Ssangyong Korando spyshots
The Malaysian Korando (named Actyon) is sold in 6 color options. In India we think the gray should be used in marketing campaigns as it brings out the lines very well. The Korando C has kept the Korean production line very busy as the car is a hit in many overseas markets. The RHD Korando C has entered Australia. Poland, Russia and Belgium are other markets the factory makes cars for. One Korando is born every 150 seconds in a place which dramatized a war zone with a striking workforce not very long ago. After Mahindra acquired the company, things have sailed very smoothly for Ssangyong.
How much would you pay for the charming Korando C?