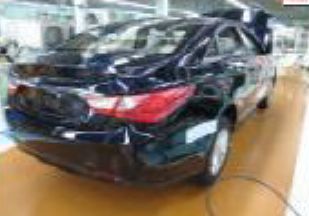 Based on what we've heard and what we can make out from this low-resolution picture, the rear portion of the Sonata YF is tidy, sharp, fluid, poised, brisk, funky, cool and a whole lot of other things.
Did the design engineers of the Hyundai i40 derive all their inspiration from the Indian Ocean?
Even the spy shots portray how the car flows from bumper to bumper. Would I be wrong if I said this is the most stunning car Hyundai's ever made?
We can't repeat the details an specifications of the i40, we've done it over and over, you just have to read our earlier posts under the Hyundai Sonata YF/i40 category to learn more.
You'll gain a world of knowledge by doing so.
Source - The Car Blogger