The Audi A3 sedan is an important product from the Indian context and Audi has started testing the car.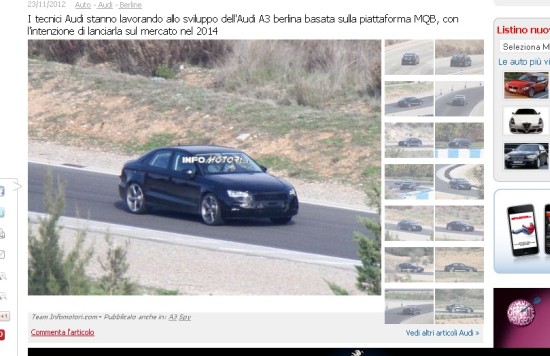 The test mule was photographed by Infomotori.com when it was being tested at a private track in southern Europe. The bare boned mule suggests that the A3 sedan is still in the early stages of development.
The A3 hatchback was launched earlier this year and went on to put a good show in European markets. However, Audi India is skeptical about bringing a premium hatchback to India since the Ingolstadt based car maker believes that the Indian market is still not mature enough to embrace an expensive luxury hatch.
Audi India's Managing director Mr. Michael Perschke talked to Indian Autos Blog about the A3 earlier and stated that the A3 sedan is probably the next car for India from the four rings' stable.
The A3 is based on the VW's MQB platform and so is the A3 sedan. While the competitors Mercedes and BMW have announced that they will bring their premium hatchbacks to India, Audi is focused on the A3 sedan.
The A3 sedan concept was showcased at the 2011 Geneva Motor Show. The car is 4.40 metres long compared to the A4's 4.76 metre.
The A3 sedan is likely to use the same set of powertrains that are employed by A3 hatchback which include 1.4 TFSI petrol, 1.8 TFSI petrol and 2 litre TDI diesel. These engines are also used in VW Jetta and Skoda Laura which would give production cost advantage to Audi should they decide to assemble the car in India.
The production version of the A3 sedan is expected to debut at the next year's Frankfurt Motor Show as a 2014 model.
[Source: Infomotorati.com]