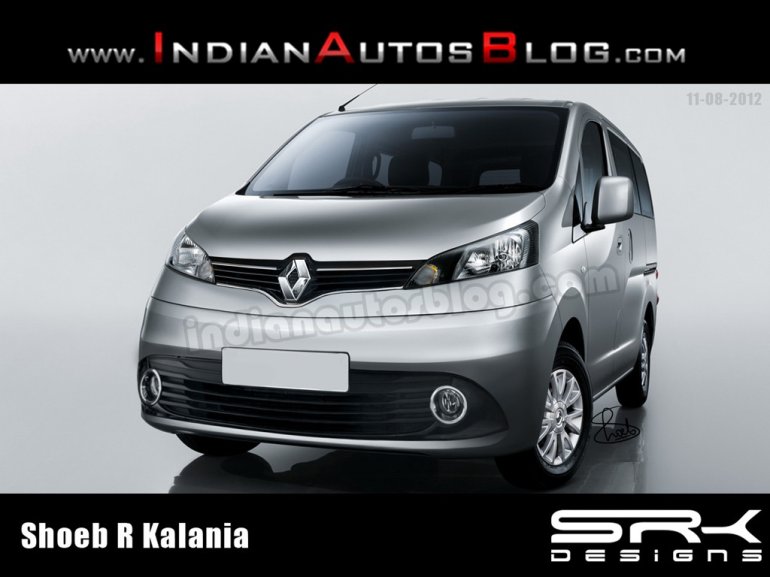 To set things straight, we are not poking anyone with this rendering. Neither are we saying that such a type of thing should be encouraged in the Indian market.
What we are saying is that it is extremely uncanny that the Renault badge fits rather perfectly on the front fascia of the soon-to-be-launched Nissan Evalia, as our renderings-man Shoeb R Kalania has just proved.
The sweptback, slender headlamps with a wide front bumper are very reminiscent of the Renault Mégane!
Yes, Renault has done this before with the Pulse, which is essentially a Nissan Micra with some Renault badges. The upcoming mid-size sedan from Renault India - the Scala - is a rebadged Nissan Sunny. There are also speculations that Nissan is planning its own version of the Renault Duster with a reworked front fascia. Nissan India officials said if there is an opportunity for a Nissan Duster, they would not let it slip.
Well, I think some Indian manufacturers have taken 'Sharing is Caring' a bit too seriously.
So coming back to the Evalia, we drove it in Bengaluru and we were very impressed by the space and drivability of this new contender. If priced right, we think the Nissan Evalia has a very good future in India.
Read our complete review of the Nissan Evalia
But if it clicks with the Indian masses, we think Renault would take a look in as well. Of course, we expect Renault's version of the Evalia to be slightly more premium than the Nissan version.
We expect a generous dollop of chrome on the front fascia of the Renault Evalia. We also expect Renault to rectify the Evalia's key faults such as butterfly flap windows, second row ventilation and a glovebox cover. Renault would be the third company (after Nissan and Ashok Leyland) to run its version of the Evalia.
If Renault does re-badged the Nissan Evalia, remember where you saw it first.