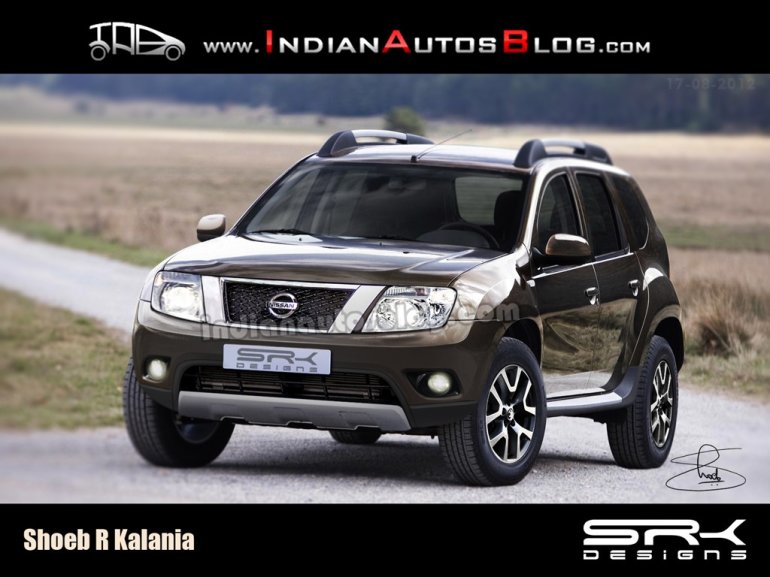 I am sure you were as surprised as us when we found out that the Renault badge fits rather well on the Renault Evalia. Well its now déjà vu as our in-house rendering specialist brings to you an exclusive rendering of Nissan's version of the Renault Duster.
Surprisingly, the Nissan's global SUV design language fits rather well on the Duster's front fascia. It makes it look butch and premium at the same time.
When we met Nissan's vice-president for vehicle design and development Jerry Hardcastle, he said that he was unsure whether Nissan would rebadge the Dacia Duster. He also said that Nissan India is sitting on the fence with the Duster rebadging and would wait to see whether the Duster hits the right chord in India. He said this was an advantage of an alliance.
Well, the Duster has mopped up 10,000 bookings in India and Nissan must be seriously considering to enter the compact SUV segment. But developing a new SUV, that has to comply to all the requirements of the Indian market, may take a few years.
Nissan also has the Juke which is positioned as a premium compact SUV just like the Skoda Yeti. However, localizing the Nissan Juke would take considerable time and effort on part of Nissan India. More importantly, the market for a premium compact SUV has not matured in India. Case-in-point are Skoda Yeti's sales figures as opposed to the value that Yeti's offers. If the Juke has any plans to hit the Indian shores, those would be 'very' long term plans.
In the short term, Nissan needs to scale up and fast. Nissan needs a 'Duster-like' volume product in its portfolio. The Evalia is promising but needs some intense head scratching in the pricing and marketing department. On the other hand, selling a Nissan Duster would not be very difficult. All the salesperson has to do is say 'Hello sir, this is like the Duster, India loves it' ...SOLD!
The revised design may 'sweep' you off your feet, or the value positioning could 'mop' up the volumes, but those are not excuses for calling the Duster's twin as a Sweeper or a Mopper ;-)