With the launch of the 90 series complete, 40 and 60 series cars are now in Volvo's focus. The second-gen Volvo XC60 debuted this year, and the next 60 series models set for revamp are the Volvo S60 and Volvo V60. auto motor und sport Sweden reader Levent Morandini recently spotted a mysterious Volvo estate test mule in Amsterdam. A possibility is that this is the next-gen 2018 Volvo V60.
The design of the test mule would initially have one mistaken for a Volvo V90. The Volvo V90 is 4,936 mm long, 1,879 mm wide and 1,475 mm tall. IAB made a registration plate check of the Swedish-registered car, which revealed that the car hiding beneath the heavy camouflage is much smaller in size.
According to the data excerpted from the Swedish transport ministry, the test mule is 4,628 mm long and 1,865 mm wide. The length is rather close to today's V60, which is 4,635 mm long. Under the hood, there's a 140 kW (190 hp) diesel engine linked to an automatic transmission. It is possible that the wagon has the D4 2.0-litre engine (190 hp/400 Nm) paired to an 8-speed automatic transmission. The camouflage does have a cut-out for a charging port behind the front fender, indicating that the next-gen V60 will have a plug-in hybrid option.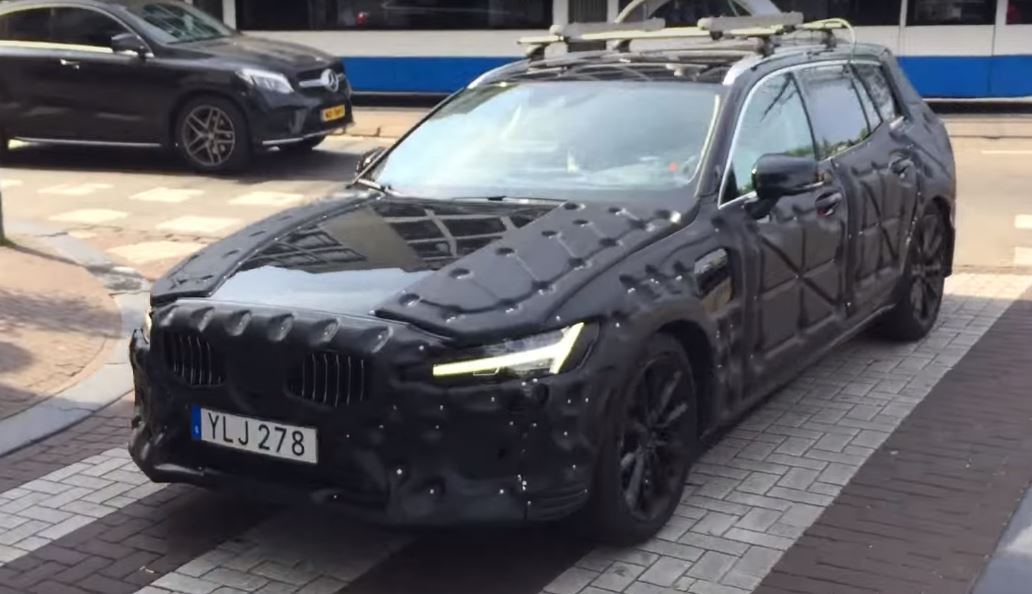 The next-gen Volvo V60 will ride on the SPA platform that currently underpins the XC90, S90, V90 and XC60. The new platform should benefit in terms of weight reduction, improved weight distribution, enhanced safety and compatibility with the latest technologies, including those allowing for autonomous driving.
Along with the familiar four-cylinder powertrains from the XC60, S90 and V90, the next-gen S90/V90 duo will have three-cylinder options. The next-gen Volvo S60 and next-gen Volvo V60 should arrive sometime next year. Volvo is yet to make an announcement regarding the launch timeline.
Hat tip to Thomas for sharing the link!
[Source - MestMotor]