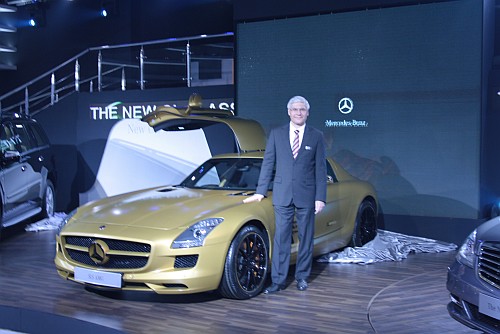 To be imported as a completely built unit from Affalterbach, Germany, the Mercedes Benz SLS AMG will be priced at over two crore rupees. But the interesting twist to this story is Mercedes Benz India has found a bunch of customers who are willing, or already have signed on the dotted line to receive the keys to this lust-on-wheels supercar which stole the limelight at the Auto Expo 2010.
Mercedes Benz India spokesperson -
Yes, we are looking to launch the model on 15th of this month in New Delhi. To be imported as a CBU, it will attract more than 100 per cent import duty and will be sold for above Rs. 2 crore. The price will vary among our prospective customers depending on the customisation sought.
The Mercedes Benz SLS AMG's structure is made of aluminium alloy which aeronautical engineers use while constructing an Airbus. It has gullwing doors which in open condition reminds you of a combat aircraft out of Top gun. It's AMG 6.3-litre V8 front-mid-engine develops 571 hp and 650 Nm of torque, so in terms of ground speed you're still in the aircraft territory.
If you floor the accelerator like Micheal Schumacher did in that nerve-racking stunt, you'll reach 100kph in just 3.8 seconds. You'll accelerate till you reach a top speed of 317kph.
Who knows, if you release the doors, you might even take off!
Source - Wheels Unplugged