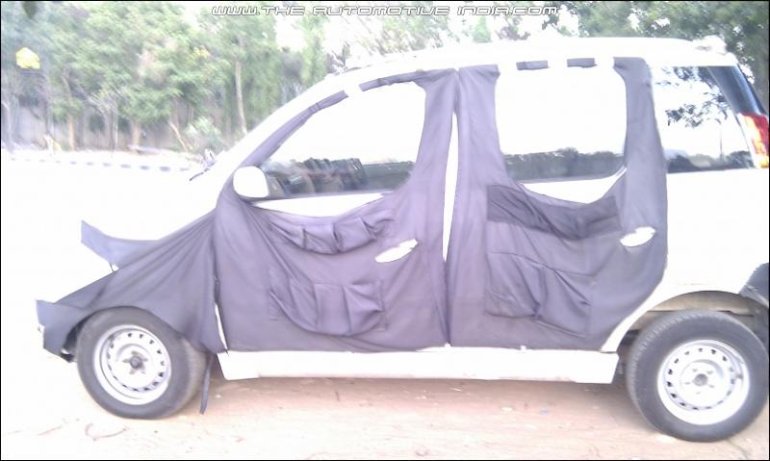 We previously caught the mini Xylo testing in various parts of South India such as Ooty, Chennai and Belgaum. It seems Mahindra's not willing to let any stone unturned in testing the mini Xylo. Mules have been on the road since June 2010.
Today Mahindra's compact SUV is back to haunt us again.
A new mini Xylo was spied near Bangalore by TheAutomotiveIndia forum member Ertiga_ZMR, wearing less camouflage. Here is the trick, the test mule we caught in Ooty had the face of the Xylo facelift, but this mule has the old Xylo's face. Mahindra continues testing two versions of  mini Xylo.
The rear three-quarter is exposed for the first time, revealing the quarter glass panel extending between the C- and D-Pillar. It is a single piece of glass unlike our previous assumptions, which was that of an aircraft's window.
In some images you can also see the third row of seats packed tightly into the rear. No image of the rear profile has emerged, but there's a fancy spare wheel cover on a newer test mule, expected to make the cut on the production model.
To fit within the parameters for the excise duty, the mini Xylo will house a 1.5-liter three-cylinder engine that produces 70bhp/160Nm. The festive season of Diwali is the right time to launch this product as sentiments are pro-buying at that point of the year with holidays, auspicious times and salary bonuses.
With a clever bit of pricing (which Mahindra knows like the back of its hand) the Mini Xylo would compete with all cars costing between Rs.6 lakhs and 8 lakhs.
[Source: TheAutomotiveIndia.com]