The Maruti Omni parks head and shoulders next to the Maruti 800 in rank, legacy and faithfulness.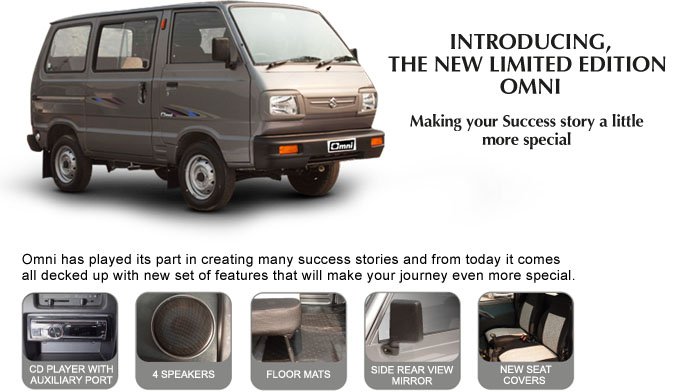 If the 800 was the family man's car, the Omni was the extended family's wheel of choice. Designed back in the 80's, the Omni continues to work on the commercial sector of India and as an intra-city people carrier with an excellent track record perhaps not for road hugging capabilities, but certainly for fuel efficiency and reliability.
Maruti introduced the Eeco as an upgrade to the 'Maruti Van' back at the 2010 Auto Expo. Despite the push to upgrade to the bigger and more advanced Eeco, many customers in smaller towns and cities have maintained their loyalty towards the Van. If there's good customer pull for a product, how can Maruti plot retirement plans for it?
Hence Maruti's marketing division planned a special edition, like they've done with all other vehicles in its portfolio, to offer added delight to its target buyers. To inject some pep, here's what they packed it with -
CD Player with Aux
4 Speakers
Floor Mats
Left side rear view mirror
Seat covers
If you were expecting turbochargers, a body kit and a LED lights, then you might have to remind yourself that the Omni is over 30 years old bearing limited energy and ambitions. Its potential buyer is a tourist cab operator, emergency service operator or a parcel delivery company who aren't demanding style or attitude.
The CD Player and 4 speakers can provide good company over long hours behind the wheel, while the left side rear view mirror is a safety feature that shockingly is omitted on the lower variant of some Maruti products.
Will a special edition Eeco follow the Omni?
[Source - Hero_Puch of Team-BHP.com]