It's no more a secret that Fiat India will indeed launch the Jeep brand here, part of its strategy as we were told in December last year.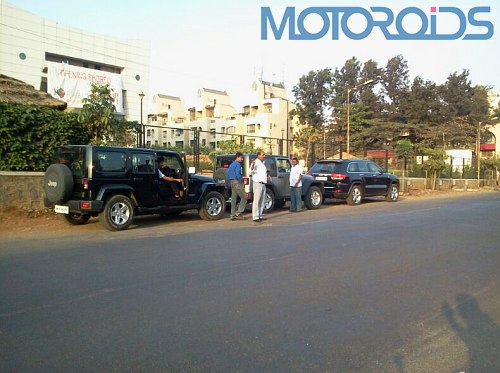 We also told you that in the third quarter of 2013, Jeep will start selling two of its products - the Grand Cherokee and the Jeep Wrangler. While there are plans to bring a small B segment SUV in 2015 and a C segment SUV in 2016, we'll talk on that later.
For now, it seems that the 'Americans' have arrived! Or have they? What you see here are three Jeeps - the Grand Cherokee leading the pack followed by the Wrangler and the Wrangler Long Wheelbase or the 5-door Wrangler.
The cars were spotted in Pune by Motoroids reader, Mr. Rohan Patil. There's just one thing odd about these cars - the registration plates are private and not the trade certificate plates we are so used to seeing on test mules.
The report also says that the cars were chauffeur driven and suggested that they may belong to a private owner, rather than the company. Another report that emerged last year confirmed that Jeep would begin pan-India testing of its fleet in January.
There are a lot of questions that are left unanswered with regards to Jeep's entry in India. Would Fiat want to bring the 2-door and 5-door Wrangler? If yes, would we get the all new 3.0-liter V6 diesel? And what would be the pricing strategy for the cars?
However, we can speculate on that last one. These Jeeps will be CBU imports and would not be cheap as a result. We can expect the Wrangler to cost from INR 25 lakhs and upwards while the much grander Grand Cherokee should command a price from INR 35-40 lakhs onwards.
[Source - Motoroids.com]