Jeep rolled out its five millionth vehicle at its Jefferson North factory in Detroit yesterday. This plant makes the Jeep Grand Cherokee which is weeks away from its launch in India.
Down below is a short video clipping that shows factory workers celebrating the milestone.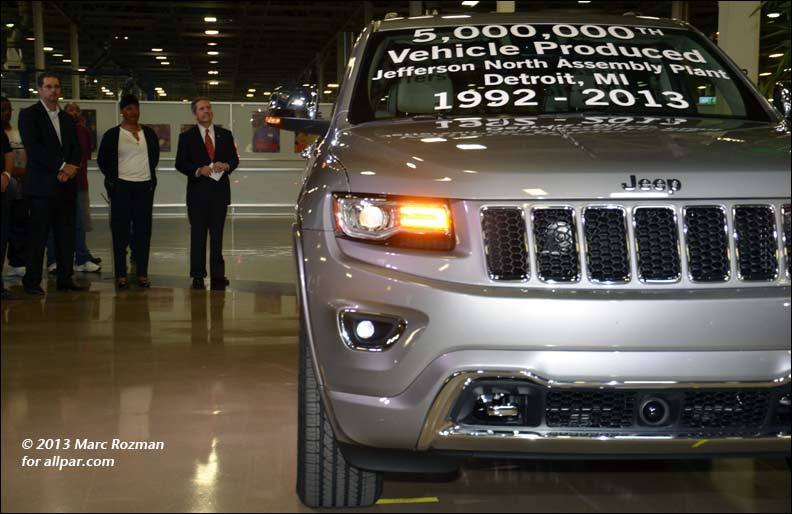 The video clip also explains the various processes that go into the making of the Grand Cherokee. The Billet Silver Grand Cherokee which marks this milestone was donated to the United Service Organizations as part of Jeep's commitment to the military to provide support and aid to troops that have returned.
Production began at Jefferson in 1992 with 1,600 employees working two shifts to make the 1993 Grand Cherokee. Today this plant has 4,500 workers on three shifts, working 120 hours every week. Last year the plant made 291,403 vehicles.
Besides the Jeep Grand Cherokee, the plant also makes the Dodge Durango and produced the Jeep Commander between 2005-10.
[Can't view the video above? Head over to Youtube]
Scott Garberding, vice president of manufacturing -
Twenty-one years ago, the first Jeep Grand Cherokee rolled off this assembly line and while it was questionable whether we would ever make it to this point, the people in this plant never lost their focus. Certainly many things have changed over the years, but one thing has remained constant – the dedication and commitment of this workforce.
[You can read the complete history of the Jefferson plant at Allpar.com]
Head to Page 2 to read the press release.
Jeep rolls out the 5 millionth vehicle at Jefferson North Assembly - Press Release
[Can't see the document above? Head over to Scribd]