Ever since more number of Indian cars came under the scanner of safety rankings by Global NCAP, cars are being seriously judged on one more parameter now - the safety levels they offer. While the NCAP programme is in existence for the last 40 years, however, in the last couple of years, more and more number of made-in-India cars are coming under the scrutiny, and sadly, the dismal rankings of some of the cars have forced the car makers to go back to the drawing board and make some serious changes to the list of safety features of their offerings.
Here, in this list, we are going to give you a detailed description of the top five safest cars which have passed the tough tests of Global NCAP programme with flying colors and highest rankings.
1. Tata Nexon - 5/5
Out of all the cars in this list of safest cars, the Tata Nexon is the newest one, so it has got the advantage to keep the parameter of safety in the priority list from day one. And the result, quite obviously, has worked in favour of Tata Motors, as the Nexon is the only made-in-India car till date which has secured a 5-star rating for Adult Occupant Protection. However, things were not 'perfect' from day one, as the initial tests had got it a 4-star in Adult Occupant Protection. The rating in Child Occupant Protection has remained 3-star.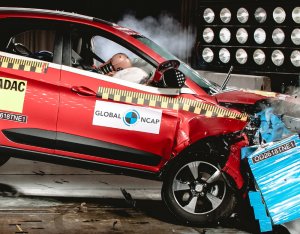 To achieve a 5-star rating in AOP, Tata Motors had made a seat belt reminder for the front occupants standard. Dual-front airbags, ABS and ISOFIX child-seat mounts also are standard in the Nexon.
Also read: Tata Nexon (5-star NCAP) Falls Into Ditch, Keeps Everyone Safe
2. VW Polo - 4/5
This had to be an obvious entry into the list, as Volkswagen has been a pioneer when it comes to class-leading safety standards. In Global NCAP, two versions of the made-in-India VW Polo were taken into consideration - one with no airbags and one with dual front airbags. While the one with no airbags scored zero star rating for adult occupancy, the one with dual front airbags scored a commendable 4-star rating (12.54/17). On the other hand, both the versions scored three star ratings for child occupancy - 26.97/49 of the one with no airbags and 29.91/49 of the one with dual front airbags.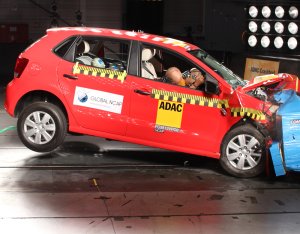 The made-in-India VW Polo was tested by Global NCAP back in 2014, when the hatchback was offered with dual front airbags only in top-spec Highline variant, while none of the variants featured ABS, which was a shocker. However, things have changed for good now, as all the variants now feature dual front airbags and ABS as standard - a step taken as an after-effect version of this test conducted. The top-spec GT TSI variant features traction control, electronic stability control and hill hold assist in addition.
Also read: 2022 VW Polo Facelift Leaked Ahead of Official Unveil
3. Mahindra Marazzo - 4/5
Ever since its launch, the Mahindra Marazzo has been in news for all the right reasons. After a long time, Mahindra has launched a premium MPV to fulfil the needs of urban customers with all the features at right places. Since the urban customers are kept in mind, Mahindra has left no stone unturned to make the Marazzo a safe MPV. This is the reason why it has performed quite well in Global NCAP crash tests.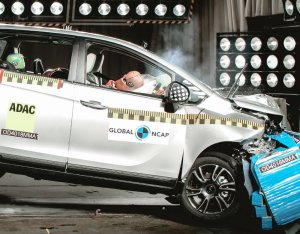 The Mahindra Marazzo has scored a 4-star rating in adult occupancy (12.85/17), whereas for child occupancy, the vehicle has scored a poor 2-star rating (22.22/49). Given the fact that the Marazzo is one of the newest vehicles in the list, it is equipped with all the modern essentials like dual front airbags, ABS with EBD and seat belt with pretensioners across the range.
Also read: Mahindra Marazzo AutoShift to Launch Soon - Confirmed
4. Maruti Vitara Brezza - 4/5
Maruti Suzuki is being criticized for making light weighted cars when compared to the rivals, which is considered to be a deterrent for safety by many. However, the Vitara Brezza has tried to prove this perception wrong by posting good figures in Global NCAP crash tests. The Maruti Vitara Brezza, which also happens to be the best-selling SUV in the Indian market right now, is also one of the safest models in its segment.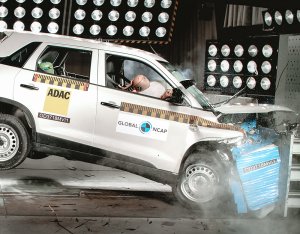 The sub-compact SUV from Maruti Suzuki scored 4-star rating in adult occupancy (12.51/17). However, when it came to child occupancy, the SUV fared a bit poor with 2-star rating (17.93/49). According to the testing conducted by Global NCAP, the Vitara Brezza's ISOFIX mounts for child seats do not meet the set standards, and they can leadto injuries to head and shoulders of child occupants. The standard safety features of this SUV include dual front airbags, ABS with EBD, front seat belt with pretensioners and ISOFIX mounts for child seats across all variants.
Also read: Maruti Suzuki Vitara Brezza Outsells Hyundai Venue - Full Info
5. Toyota Etios Liva - 4/5
While the Toyota Etios Liva is not a popular choice in its segment, it is a typical Toyota product when it comes to safety. Toyota is known for not compromising in safety, and the Etios Liva - a hatchback for emerging markets - is one perfect example of it. The Etios Liva was tested back in 2016, and the test car at that time had dual-front airbags and front seat belt with pretensioners as standard safety equipment.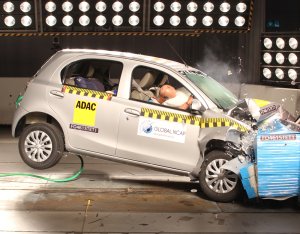 The India-made Toyota Etios Liva scored a praiseworthy 4-star rating in adult occupancy (13/16), but a poor 2-star rating in child occupancy (20.02/49). After the test results, Toyota, in addition to the dual-front airbags, made ABS with EBD as well as ISOFIX mounts for child seats standard.
Also read: Toyota Etios and Etios Liva to be discontinued before April 2020 - Report