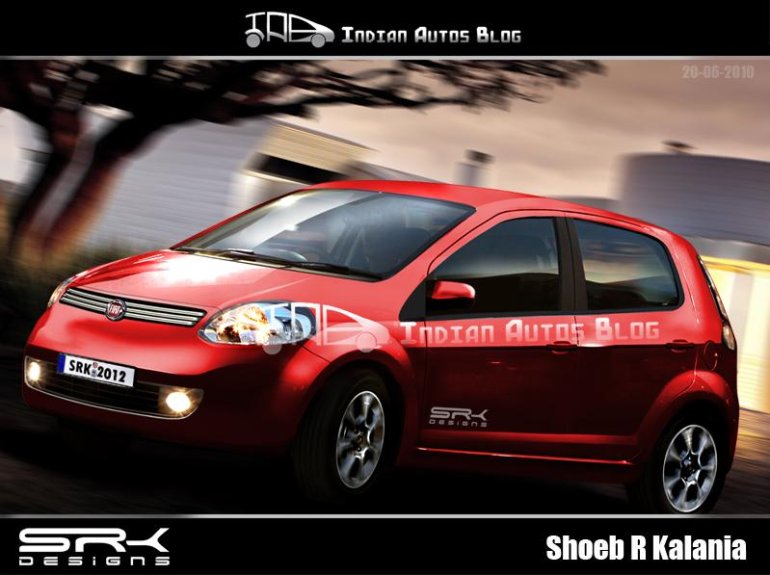 Recently there were leaked official drawings of the body panels of the 2012 Fiat Palio. Based on these pics and the numerous spy shots we had posted previously, our in-house photoshop editor SRK has come up with renderings of the next generation 2012 Fiat Palio which would be coming to India sometime in the first quarter of 2012.
The 2012 Palio, according to reliable reports, has been built on the Novo Uno platform. The new Palio, codenamed Project 326 would slot under the Fiat Punto in the Indian market. The Fiat Palio would borrow styling cues from its big brother, the Grande Punto. The headlamps, vertically oriented tail lamps and the silhouette of the 2012 Palio are all inspired by the Punto and that is a good thing.
The 2012 Palio is expected to come with a small efficient Multiair petrol engine probably in a 1.0 liter guise. These engines are immensely powerful for their size thanks to advanced Variable Valve timing. The Palio could also come with the 1.3 liter Multijet diesel engine found on the Punto and Maruti Swift.

Fiat India's attempted comeback with the Linea and the Punto hasn't really gone extremely well with the latter's sales falling well below expectations. Fiat would be looking to soar higher by gaining a strong foothold of the Indian small car segment with the 2012 Palio. We're not ruling out the possibility of platforms being shared between Fiat and Tata Motors, so this vehicle could form the underpinnings to the compact hatch which Tata will launch in the coming years to fill the gap between the Nano and the Indica Vista.