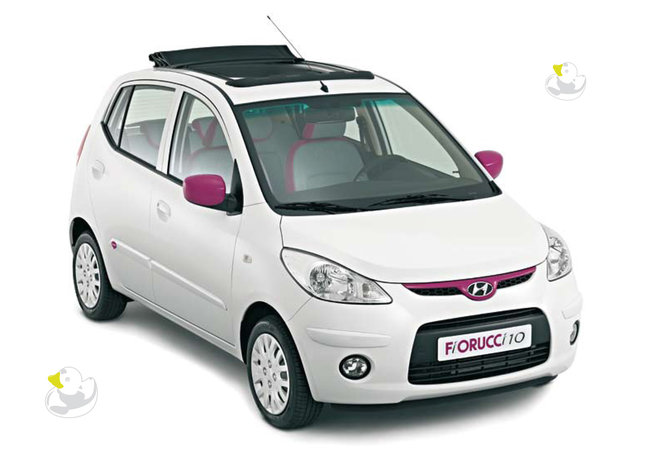 The Italians have a natural knack for fashion. The mantra is that looking great is more important than looking where you are going. It is a country where even the police uniforms are designed by Armani. Unfortunately, it all went horribly wrong when Italian Design house, Fiorucci decided that it wants to make a bold statement with a few unsold Hyundai i10s.
This isn't a special edition, if you were wondering. What this is actually is a stock clearance of the pre-facelift model using painted interiors. Since the new model arrived sooner than they predicted, the yard has to be cleared away for fresh stock and in a hurry, the Hyundai i10 special edition was born.
The above paragraph is just our imagination.
What they did was take a standard i10 and then color the seats, dashboard trimming, door panels, custom gearshift knob, floor mats, mirror caps, front grille etc. in what they call Unique (read lime green and pink) colors. And you can buy this special edition in 5 different colors: Oyster Gray, Deep Ocean Blue, Sleek Silver, Crystal White or Stone Black. The good thing is that they haven't done it the Indian way, which is to slap some stickers on the car and call it Limited Edition.
The actual useful changes are an electrically operated soft top and a rear camera with 4 inch monitor set up for easy parking. All this can be yours for just €10,990.
Let's hope Hyundai doesn't do any such marketing gimmicks in the Indian Market. The new i10 is a solid replacement and trying to revive the old one even for a special edition is not recommended.
I don't want to see a i10 Manish Malhotra edition, Hyundai. Spare us.
Source - Wheelosphere