Hyundai Motor Brazil has updated the HB20 range (HB20 hatchback, HB20X and HB20S sedan) with an infotainment system dubbed 'BlueNav' on variants that are equipped with a 1.6L engine. BlueNav offers GPS, audio, Bluetooth telephony, video and photo reading capabilities from auxiliary and USB inputs through a 7-inch touch screen.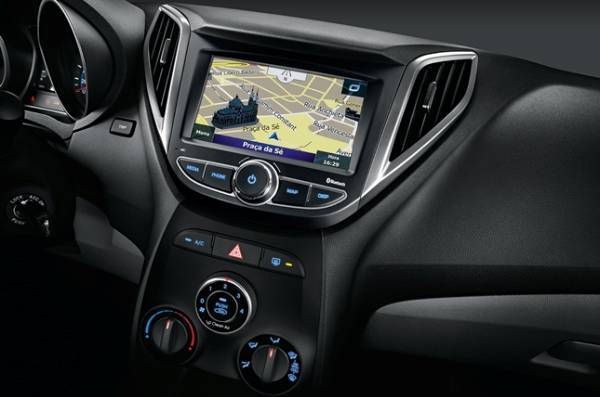 The system offers navigation using 3D maps and has a library of important pre-loaded destinations such as gas stations, restaurants and Hyundai dealerships. The system can display photos and videos when the car is static and when it senses that the vehicle is in motion, video is disabled, while the audio continues to play.
The Bluetooth feature allows the driver to receive phone calls without taking his hands off the wheel, and listen to the music stored on his smartphone via audio streaming. The AM/FM radio can store up to 12 stations in each modulation.
The Hyundai HB20 range with BlueNav is priced at -
HB20 1.6 MT Premium BlueNav - R $ 49,390 (13.85 lakh rupees)
HB20 1.6 AT Premium BlueNav - R $ 52,590 (14.750 lakh rupees)
HB20S 1.6 MT Premium BlueNav - R $ 52,090 (14.61 lakh rupees)
HB20S 1.6 AT Premium BlueNav - R $ 55,290 (15.50 lakh rupees)
HB20X 1.6 AT Premium BlueNav - R $ 56,950 (15.98 lakh rupees)