Our friends at AutoCarma have shot a video showing two new Ford Figo test mules, caught in the open.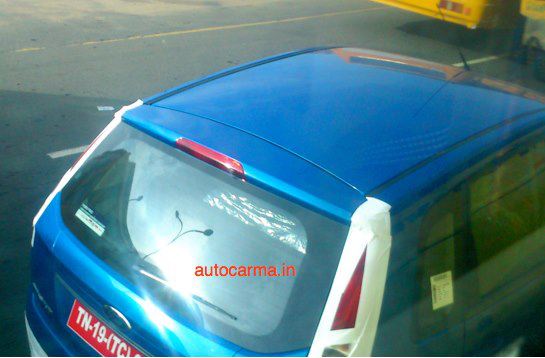 These test mules, spotted outside Chennai city, are cloaked with a combination of tape and bandages. That should not bother our readers as we've already revealed the complete picture.
On top of that, Ford India's management confirmed to IAB that an upgrade for the Figo was down the line, and were excited about the positive buying sentiment of people during Diwali. Knitting these sentences together, we deduce that Ford India will pull out the Figo facelift during Diwali.
[can't see the video above? Head over to Youtube]
Ford is testing out a canary yellow which our reader Prashanth managed to expose a few weeks ago. In addition to that, we can reveal today that a Kinetic Blue will be supplemented to the palette.
Ford is presenting these flashy colors to take advantage of bright sunshine during most parts of the year. Bright colors tend to attract a lot of attention, especially on promotional material. Sometimes they appeal to a new group of customers.
Ford is unlikely to make mechanical changes as upgrading an old platform doesn't financially make sense. If Ford wants to offer a new engine, dual-clutch or Ecoboost, it is worth waiting for the next B-Platform product (such as the Ka successor) to try them out.
Since we've already played out our impression of the car, we can make verifications from these spyshots. As we've shown you in our drawing, the indicators are positioned below the headlamp. The detailing on the tail-lamp features the brake light above the reverse guide light
AutoCarma managed to get a hazy shot of the interior that confirms that it has gone untouched. The music system, gear lever and steering wheel have not changed. Ford may want to try out beige or cream in the future, as India loves an airy feel to its interior.
[Source - Autocarma.in via AutoCarma FB page]