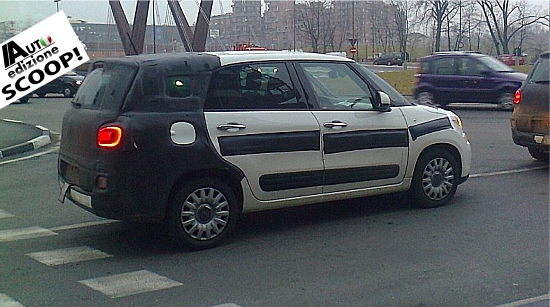 There are lot of product development activities going on at Fiat Group and the Fiat 500XL is no doubt one of the important models in the short term.
The Fiat group has a comprehensive strategy to overcome the European financial crisis and that includes new products from all its group brands.
The Fiat 500 actually started as a retro model of the iconic original 500 and in the due course it became a brand in itself. That has made Fiat to introduce new products under the 500 nameplate.
The 500L compact MPV was the first of the spin offs and the 500XL which is essentially a stretched 500L could be the next launch. And it doesn't stop there as a compact crossover SUV called the 500X is also is baking.
The spy shots of the 500XL test mules were caught by Autoedizione.com, on the suburbs of Turin, Fiat's HQ. The mule carried camouflage only at the rear suggesting that the car is production ready and undergoing final phase of testing.
The Fiat 500XL could use the same set of powertrains as the 500L which includes the familiar 1.3 litre MultiJet diesel and two petrol motors with displacements of 0.9 litre (turbocharged) and 1.4 litre.
Autoedizione.com reports that the car is set to be unveiled somewhere in June. They also speculate that Fiat could spring a surprise by getting the 500XL to Geneva Motor Show. However, Fiat has no plans to bring the 500XL or 500L to India, not at least till 2016 as their product sheet for India suggests.
[Source: Autoedizione.com]