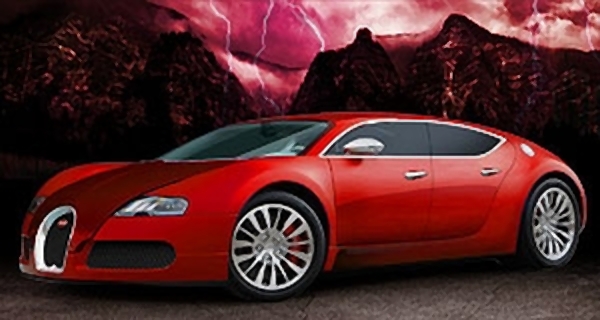 Ferrari, what would you do now? You couldn't tolerate a
4-door Porsche
. You wished (sarcastically)
Lamborghini
"all the best" with their 4-door Estoque. Now with
Bugatti
's 4 door Royale, are you going to be gutted, so much that you might drop your clothes in protest in front of the whole crowd at Frankfurt?
Ferrari
- Mummy, it's all going wrong.
Mummy
- Why darling? (
in a comforting tone
) What's wrong? The world seems just fine.
Ferrari
- Noo..(
with tears down its cheeks
) everyone's making a 4-door supercar (
uhh..uhh.
) (
takes a deep breath
) Giving a supercar with 4 doors is like dressing up a championship Olympic swimmer with a tube top.
Mummy
- Oh dear! Where are you learning all that? You must keep your distance from Mclaren. Look what Lewis and his friends have taught you. I'm talking to Mr.Mosley right away about this.
Mr. Mosley?? About tube tops and women?? Yeah right..
:D :D Although this article has got nothing to do with women and their inner garments, it's just a way of putting forward how earnestly the battle field is heating up. The four-door supercar pavilion is ballooning rapidly, and surely with an announcement from Bugatti that their 4 door Royale is heading to join the champagne at the company's 100th anniversary celebrations, it's actually true- A supercar can have four doors.
click through to view the Bugatti 4 door Royale rendering
The 4 door Bugatti Royale is inspired by the 1927 Type 41 Royale, and it is expected to cost a "few pennies" (and by that we mean a few million) more than the "standard" Veyron. The 4-door 4-seat Bugatti Royale will also be present at the company's counter in the Frankfurt Motor Show later this year. Two extra doors won't merely be the new comers. The engine is said to be shifted to the front, aimed to generate more space for the passengers at the rear. The Bugatti Royale will use a four-wheel-drive system and the Veyrons' 8-litre W16 engine quad turbocharged engine. Head over to
Go Auto
to learn more