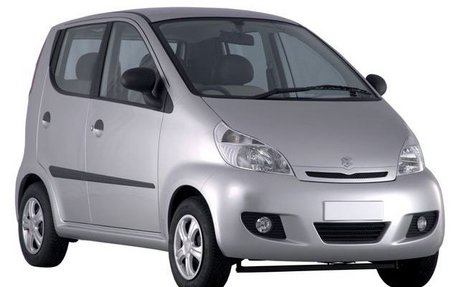 The Bajaj ULC (Bajaj Auto's Ultra Low Cost car) has been making some noise ever since the Tata Nano came into being. It started off as a car that would cost lesser than the Tata Nano, until Bajaj figured out that making a cheap car is a lot harder than it sounds.
In order to maintain the individuality and tell the the world that their small car is project still alive, Bajaj is looking to make their first four-wheeler the 'World's most Fuel-efficient petrol car'
Quoted Fuel Economy : 30Kmpl/70mpg (Tata Nano delivers 23.4Kmpl)
Quoted CO2 Emissions : Less than 100 grams/Km
Rajiv Bajaj, Managing Director of Bajaj Auto, had this to say in a TV interview
In terms of our own focus, it is the same as before. We are not after the cheapest possible car. We are after a little car that will raise the benchmark as far as fuel economy and emission standards are concerned. I can share with you that from the very beginning we have targeted a fuel economy in excess of 30 km per litre (70.56 MPG). I think we are on our way to achieving that. So, that represents a big change in terms of on road fuel economy. We are equally determined in terms of emissions – for example in terms of CO2 emissions, which is a big issue the world over, we should be well below 100 gram per kilometre of CO2. I think we are going to achieve that as well.
Bajaj is said to have been taking Renault and Nissan's help in designing the car. The project has had some major changes lately, but Bajaj Auto Limited (BAL) has categorically stated that its plans of launching the small car is on track, even if it has do to entirely on its own.
From what we hear, Renault will continue to refine the car's styling until it hits production in 2011, while Bajaj Auto  will take care of the powertrain - engine, transmission and gearbox and the Marketing part.
Bajaj ULC image gallery
Source: Red Green and Blue