Is said to be launched in 2018.
The Dacia Duster, sold as the Renault Duster in India, was first introduced at the 2010 Geneva Motor Show. Three years later, the compact crossover was given a facelift at the 2013 Frankfurt Motor Show (2013 IAA). At the 2015 Frankfurt Motor Show (2015 IAA), a few more updates were introduced and an Indian specification 2016 Renault Duster was showcased at the Auto Expo last week.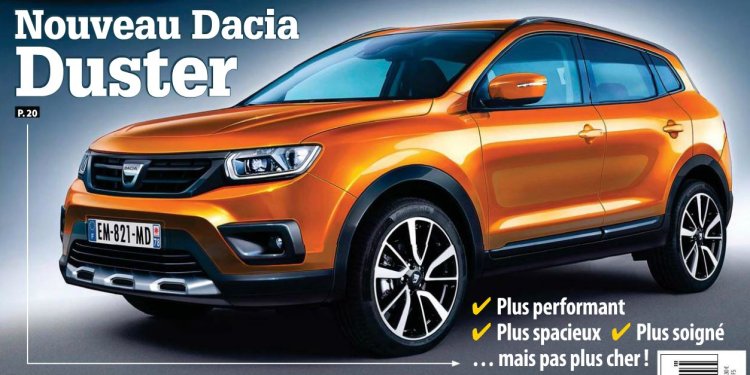 The current Dacia Duster is based on the Dacia B0 platform but there's no word on which platform the next-gen Dacia Duster/Renault Duster will be based. Given that it's a low-cost product market targeted at emerging markets, the often followed practice of continuing with the old platform for cost benefit may be the case with the next-gen model. The design and styling should be all-new though, as previewed by speculative renderings from Auto Plus.
With a more premium design and styling, the next-gen Duster will likely be bigger too. According to a recent report, the next-gen Duster will be a three-row crossover that offers seats for seven passengers. This will make the all-new Dacia Duster/Renault Duster a perfect rival of the Honda BR-V that is available with 5-seat as well as 7-seat seating configuration.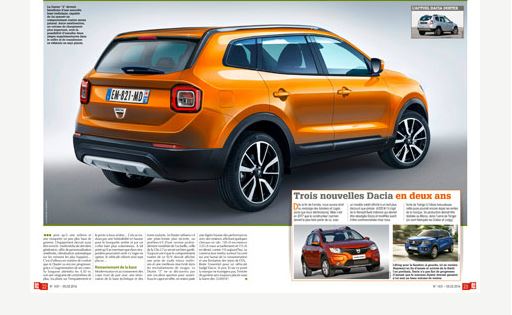 Also Read: Renault Kwid Climber, Renault Kwid Racer showcased at Auto Expo
Most of the current 1.2L to 2.0L four-cylinder petrol and diesel engines should continue being offered with the optional R-Easy AMT in the 2018 Renault Duster/2018 Dacia Duster, but it's a little too early to predict any more technical aspects.
[Image Source: Auto Plus]