Back at the 2012 Auto Expo, when Toyota showcased the Camry and everyone rejoiced because the Camry badge is back to scare the luxury sedans.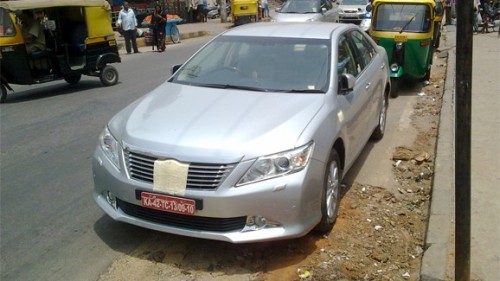 The 2012 Toyota Camry was spotted by a reader of TopGear India magazine
The Camry badge was the arch rival of the Honda Accord. However the introduction of the Superb diesel in the Indian market made cars like the Accord and Camry look a bit pointless, really.
TopGear India brings us spy pics of the Camry being tested in Bangalore. As one can see from the scanty camouflage, the Camry is all set to woo the luxury sedan buyers in August 2012.
So what's new in the 2012 Toyota Camry?
First of all, it's the design. Whereas the old Camry was bulbous, the new one is sharp as a ninja's sword. New headlamps, a new chrome grill and new set of tail lights are special features in the redesigned model. It also gets a brand new interior with wood and beige finish.
See more spyshots of the Toyota Camry testing in India
Can it hold on when the situation around it is falling apart?
Toyota India has confirmed to us that the Toyota Camry will not be offered with a diesel engine as there's no such thing as a Toyota Camry diesel anywhere in the world. The 2012 Camry will be offered with four-cylinder 2.5-litre petrol motor churning 178bhp. There is also a talk of a 3.5L V6 but that one is petrol as well. With petrol prices touching Rs. 80 per litre, I can imagine even hardcore Toyota fans shying away from the Camry. Add this to another woe - duty structures on CKD models have changed and the incoming Camry cannot be as cheap as Toyota India hoped for when deciding to assemble it in India.
But there is hope...
If you clearly remember, back in 2011, we brought you a story on Toyota-BMW partnership for diesel engines and to and jointly develop car batteries. Part of the agreement dictates that BMW will supply Toyota with its diesel engines. However, this agreement was strictly limited to the European region.
If Toyota India really wants to revive the Camry badge in India, it needs to get the Camry in a diesel avatar. If the Innova or Fortuner's engine cannot be transplanted successfully, the next best place to look for a solution would be in BMW India's factory!
[Spyshots sourced from Topgear.com]