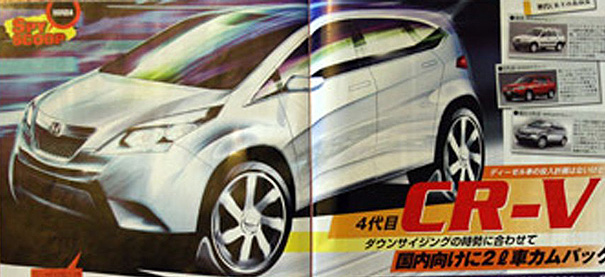 None of us have envisioned the 2012 Honda CR-V to look like this. The compact crossover which is a big hit in India for its style comfort and performance enjoys the same treatment in other countries including China, England and Brazil.
The overhauling process is going on now. In 2011, the new Honda CR-V could be displayed at the Tokyo Motor Show.
The Japanese magazine which carried this rendering says the 2012 Honda CR-V will utilize the existing model's platform. This is a clear indication of how the bad economic conditions have affected Honda's future car development, who otherwise tend to scrap cars at the end of their tenure.
Honda has put the brakes on the developments of many other cars including the acclaimed NSX supercar, their pull-out from Formula 1 confirmed they were a victim of the deteriorating economic conditions.
Additionally, the magazine reports the present engines (2.0 and 2.4-liter) would continue to serve the vehicle and understandably.
For Indians, if we are really waiting for one car, it is definitely the Honda CR-V diesel.
Source - Blog Auto Brazil