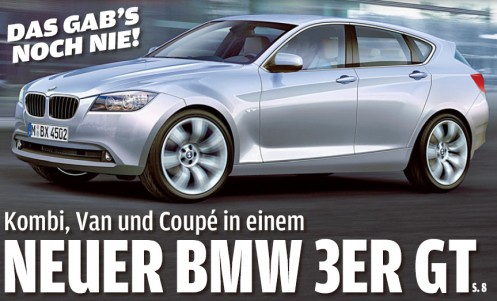 BMW V3 crossover based on BMW 3-Series
BMW's been creating new segments and new cars! Look at the BMW X6, the Progressive Activity Sedan and this, the 2012 BMW V3 Crossover! Pointless? Not quite. These cars are niche products, and we think that they are the future.
At the LA Auto Show, BMW's CEO Norbert Reithofer confirmed the launch in 2012 of a crossover model (a car that combines the strengths of a SUV and a Minivan) based on the 3 Series, named V3. The Progressive Activity Coupe, as it is known within the walls of BMW's R&D, will share a lot in common with the PAS (Progressive Activity Sedan) due to launch in 2009.
The EfficientDynamics technology (A set of features which keeps the fuel consumption and emissions  of a BMW at it's lowest possible point) is expected to be part of the Progressive Activity Coupe, and a hybrid version cannot be ruled out either.
Autobild magazine performed a rendering, the one you see above, which they claim is very close to the actual car. More pictures are expected in the future. The BMW 1 and 3 Series platforms will be continually used to churn out more compact, effective and fuel efficient cars in the future. These 3 terms are what manufacturers in India are exactly doing, so expect most of it to arrive in India, if not manufactured here.
So, what do you think of this design? I prefer it to the 1 Series hatchback and the X3 SUV. The rendering sports lots of fender flares and muscles. So BMW-
1) What's next? A 6 Series limousine?
2) Are you the International counterpart of Tata Motors?
Source : BMW Blog