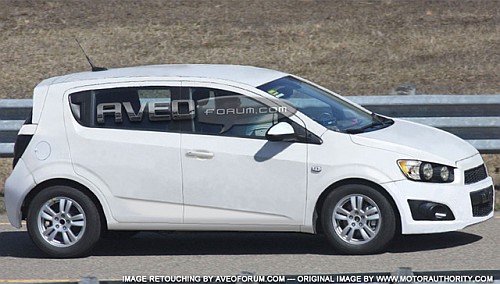 The upcoming Chevrolet Aveo U-VA should debut in India by the end of 2011 after the next gen Aveo sedan, and that doesn't mean the existing Aveo twins will be shown the door. Both generations could co-exist and for that to happen peacefully, the cars shouldn't have major similarities.
The next generation Aveo will be sold in India with a locally-manufactured 1.3-liter diesel engine. It will also use a petrol engine, which could be a derivative of the 1.2 S-Tec motor on the Chevy Beat.
The sub-compact segment away from India has zero-tolerance for mediocre and half-baked hatches. When you have cars like the Toyota Yaris and Honda Fit, not to mention Ford's new Fiesta, you better cross over to the battle field with weapons that can destroy.
The next gen Aveo U-VA/Aveo sedan will use the 300 Series platform (same as Beat, Cruze). You don't have to look hard to understand styling cues will carry over from those two.
Indian Autos Blog has featured scores of spyshots and renderings of the upcoming Aveo. Scroll down to view them.
Source - Auto Guide