Chinese bus maker, Zhongtong, is about to set foot in the Indian luxury bus market with Hyderabad-based Deccan Auto as its local partner. Unveiled at the Bus World 2013 expo, the Zhongtong Navigator series of half-deck luxury buses of varying lengths will be imported as CKD kits and assembled at Deccan Auto's upcoming facility at Patancheru near Hyderabad.
Gaadi.com has caught all the three variants of the Navigator buses - 8 m, 12 m and 13.7 m - testing near Bangalore. In the half-deck configuration, passengers will be seated much higher than the regular luxury coaches while the room in the lower deck can be used for stowage and to install optional features like pantry, refrigerator, coffee maker, chemical toilet and so on. The buses also come with head-rest mounted entertainment consoles.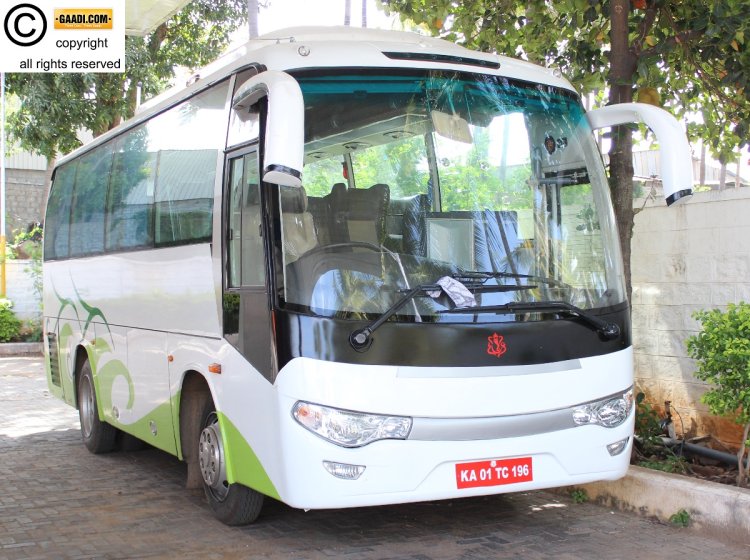 The 13.7 m (multi-axle) and 12 m half-deck variants are powered by a rear mounted 10.3-litre diesel engine with Bosch E-Controlled common rail diesel engine mated to a 6-speed manual transmission. The engine churns out 375 hp in the multi-axle variant and 336 hp in the 12 m variant. The duo will compete with their respective rear-engined intercity counterparts from Volvo (9400 and 9400 XL) and Scania (Metrolink 12 m and 13.7 m). The Navigator 13.7 m is claimed to have a fuel economy of 4 km/l under driving conditions in China, while the Navigator 12 m is expected to return a marginally better efficiency.
The 8 m variant called the Catch has a normal body type. The compact dimensions make it suitable for application in city and mountainous environments.
The buses are reported to be undergoing homologation at ARAI and the market launch is expected shortly.
[Source: Gaadi.com]