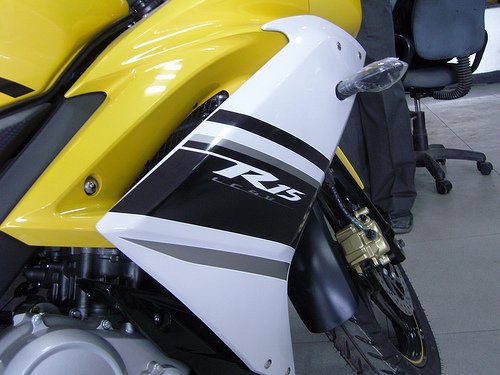 Performance upgrades for the FZ and R15 are not cheap by any standards
In order to extract more power and performance from your Yamaha R15 or FZ series bike, you don't have to look very far these days. All you need is to do is go for the Daytona racing kits from Yamaha.
The two reasons that might not make you very happy -
1) it's a costly affair
2) the kits are allowed to be only used on tracks.
Built by Yamaha Engineering Corporation and Daytona, these parts are exclusively for racing purpose in a closed circuit only. The YZF-R15 engine kit includes a new ECU, high-lift camshaft and performance exhaust which cost around Rs 31,000 (ex-showroom, India). You also have an option to buy a tuned length exhaust system as a separate unit which will cost Rs 16,000. The body kit, which includes a 298mm front petal disc, upgraded front brake master cylinder, braided brake hoses and HID headlamps is available for Rs 20,000.
On the other hand, the FZ series bikes (FZ-16 and FZ-S) has a tuned length exhaust for Rs 16,000. It also has a body kit consisting of the HIDs and disc brake for Rs 20,000.
Apart from the performance kit, if you want to enhance the looks of your R15 or FZ, there are genuine Yamaha accessories available at the Yamaha dealerships across the country. These accessories have been in the market for quite sometime now. These accessories consists of a wide range of items from as small as the number plate bolts to the dashing Billet clutch and brake lever, LED flasher sets and more.
These accessories are available in three colors which are titanium, champagne gold and blue except for the rim stripe tape which is available in red, blue, yellow, green and champagne gold.
There is a lot you can do with your bikes from Yamaha but all of them are towards the expensive side.
Yamaha YZF-R15 Image Slideshow
If you're not able to view the slideshow above, visit the Yamaha YZF-R15 Impact Yellow Image Gallery directly