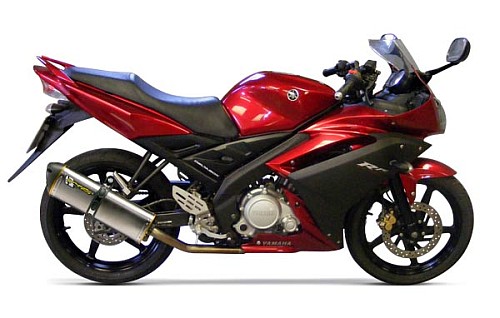 Yamaha YZF-R15 fitted with TwoBros exhaust system
Yamaha YZF-R15 has been a trend setter in the Indian motorcycle industry with its performance and style. If you feel Yamaha has extracted the maximum from this bike then just hold-on.
TwoBros have come up a with an exhaust system specifically designed for R15 called Yamaha R15 (2009) V.A.L.E. Full Exhaust Systems.
This exhaust system not only reduces overall weight but improves the horsepower and torque figures thereby fetching out the maximum from the engine. The sound of the bike also changes and gives a deep and throaty exhaust note.
These exhaust system are available in three different types of canister mainly Aluminum Canister, Carbon Fiber Canister and Titanium Canister.
However, since we haven't seen any performance tests of the bike after installing this exhaust system, it would be difficult to say how much the bike performance would improve. The price of the exhaust system starts at US $350 (Aluminium Canister).
Head over to TwoBros to get other details on this exhaust system
Source - Burn your fuel
Regular Yamaha YZF-R15 Image Gallery
Want more of YZF-R15 action? Check these out
Nazish speaks about his experience on the R15
A new R15 heading to the Auto Expo next month?
New color schemes on R15 introduced
Racing kits for the Yamaha R15
Black Yamaha YZF-R15 Image Slideshow
can't see the slideshow above? Visit the Black Yamaha YZF-R15 Image gallery directly