As the first 2,800 customers of the Yamaha YZF-R25 in Indonesia wait with a bated breath for the delivery of their motorcycle, new details of the quarter litre sportbike have trickled down on the internet.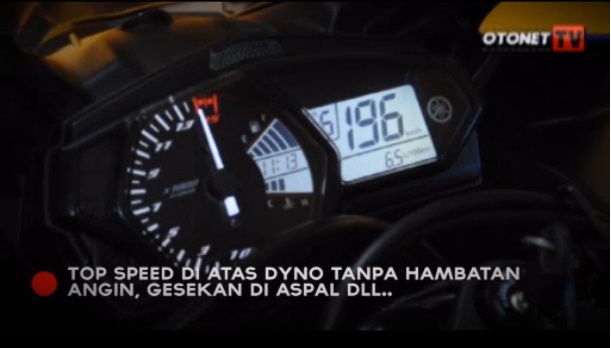 Earlier, an image, showing the R25 doing a speedo indicated 173 km/h with the tacho needle hovering over the 12,000 mark on top gear, surfaced. Now, a new image has emerged which shows the motorcycle reaching 196 km/h when mounted on a dyno, this time with the engine spinning at its 14,000 rpm redline in top gear.
However, it is to be noted that a dyno test does not simulate the road conditions where parameters like wind and road resistances come into play, sapping some performance. Hence the Yamaha R25's top speed in real world conditions is expected to be somewhere in the region of 175 to 180 km/h as indicated in the previous image taken while riding the bike on the road.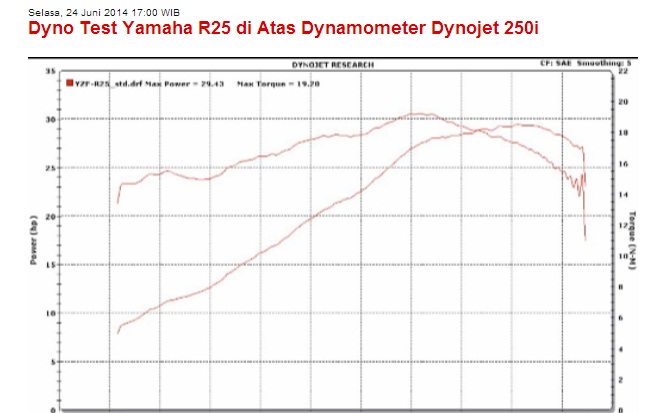 To recap, the R25's 250 cc parallel twin-cylinder liquid cooled fuel injected engine develops 36 PS of power and 22.6 Nm of torque. The transmission is courtesy of a 6-speed gearbox. Interestingly, the R25 only managed a maximum output of around 30 PS and 19.2 Nm of torque despite repetitive tests on the dyno.
The R25 is expected to launch in India by next year.
[Source: Ototv.otomotif.com]