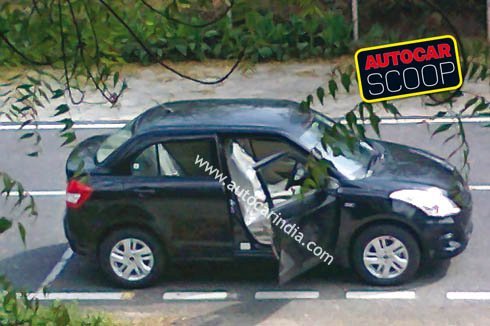 After the hatchback market, the entry level sedan segment is gearing up for heavy action. Just yesterday, Mahindra announced that their contender for this particular market – the Logan has been now given a bit of tinkering on the outside and now has a new badge – Verito.
Now AutocarIndia published a spy pic of the sub-4 meter Dzire based on the 2011 Swift platform. The reason of it being below 4 meters is because it can now enjoy low excise duty of just 10%, as opposed to 22% on bigger cars. Being on the older platform, the current Dzire will be discontinued and this new Dzire will replace it at a much lower price point. ACI is expecting a cost benefit of at least Rs. 30,000 to 40,000 to the customer.
But that's not the only reason why the new Dzire is under 4 meters long.
According to our Sedan comparo, the Swift Dzire is the largest selling sedan in India. It is also the oddest looking sedan in India. But Maruti's problem child has to be the SX4. With a small diesel engine and limited features, its chances of garnering good numbers is unlikely considering there are four new players in 2011 entering that segment with more on offer - Nissan Sunny, Ford Fiesta, Hyundai Verna and Skoda Rapid. Three out of the four brands enjoy a better image with bigger cars and are going to offer something completely new. The SX4 numbers will taper off no doubt.
The last thing Maruti needs is in-house competition - We've all heard tales about how customers find the Dzire and SX4 very similar and end up going for the slightly higher VFM SX4. Given the fact that the new Swift is marginally bigger, executing a normal Dzire would have pushed it closer to the SX4.
To keep the SX4 and Dzire well apart considering they have the same powertrain and similar features, Maruti could have opted for the sub-4 meter option. Nonetheless, the Dzire is sure to create a stir in the market. Expect it to debut at the Auto Expo in Delhi next year.
What are your thoughts on it?
Source - AutocarIndia.com
[Update] Story Link - AutocarIndia.com