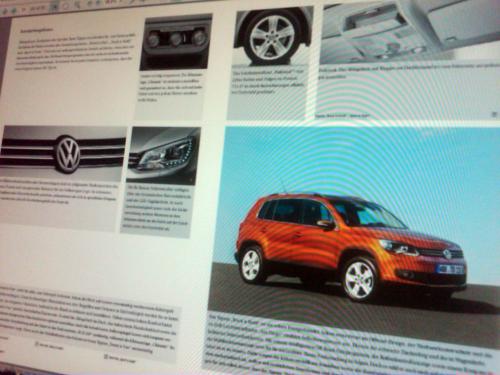 We've heard from our sources that VW is studying all possible options to manufacture in India and localize to the maximum possible extent, the Tiguan, which might be introduced in the next couple of years.
An image of the brochure of the facelifted VW Tiguan has found its way onto the internet. Though the image is a little blurry, it appears as if both the North American as well as the European versions of the Tiguan will inherit the slightly altered styling as that of the Chinese Tiguan.
There are not many changes in the facelifted versions of the Tiguan. The changes include a new front bumper, fog lights, radiator grille and wheels. There are also LED daytime running lights on offer, which are integrated into the headlamp assembly.
Only a single change has been made to the interiors of the facelifted Tiguan, and that is the new and much more simplified climate control system.
There are no changes under the hood of the facelifted Tiguan, which results in the same engine and transmission options being carried over. But, minor modifications to the drivetrains in order to improve the fuel efficiency and lower emissions can be expected.
The facelifted version of the Volkswagen Tiguan is expected to be unveiled to the public at the Paris Motor Show in September.
Source - Worldcarfans