The news that Volkswagen India is testing the Up! for India should come as no surprise to you. Our dedicated reader Michael Tomy has managed to snap a few images of the Up! testing in Viman Nagar, Pune.
Weirdly, the model caught on test is a 3-door variant. Launching the 3-door VW Up! variant in India would be suicidal because the market of three door hatchbacks is nonexistent.
Of course, Volkswagen could be just testing technologies or the platform in this case. Previously we have also seen a test mule of 5-door version of Up! along with this vehicle, which is the best suited in India.
The rear of the Up!, in outline, is similar to a chemical jar. The Honda Brio is blushing looking at the all-glass hatch, but immediately starts envying its small integrated wiper.
Although Volkswagen India is still sitting on the fence when it comes to the Up! India debut, we strongly believe that the end result would be affirmative. A mass market product such as the Up!, if launched in India at the right price, would give Volkswagen the necessary volumes to reach the target of 10 million car sales by 2018.
The VW Up! that is testing in India is a re-engineered version of the European one. Reports suggest that German engineers are working on redesigning parts of the Up!
Volkswagen may improve the space at the rear for the emerging markets as it is put to use more frequently. There are also plans to increase the boot space by moving the spare wheel below the body. We have no way to verify these claims until we get to see the mule ourselves.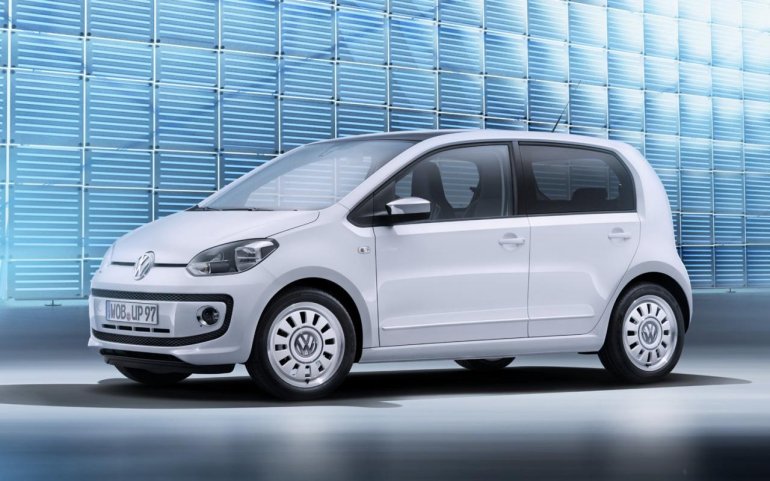 When (or if) the Volkswagen Up! launches in India, it will sit below the VW Polo hatchback. Competition will come from industry stalwarts such as Maruti Wagon R and Hyundai i10 (2nd and 3rd best selling cars respectfully).
As for now, the Volkswagen Up! is powered by the same 1.0L, three-cylinder engine generating 60hp or 75 hp. It is mated to a 5 speed manual delivering 27 kmpl on a European cycle.
If Volkswagen wants to sell the Up! in big volumes they need to plonk a compact diesel engine with 23-25 kmpl (real life economy). A semi automatic gearbox which was launched in the UK would be an excellent selling point.
Volkswagen India is pretty stagnant from the perspective of product launches for a long time now. Sure, we saw updated version of the Polo and Vento, but we don't expect them to shake things up.
The re-engineered VW Up! might just be the answer to all Volkswagen problems in India.