An eagle eyed car aficionado in Hungary has caught the 2011 Suzuki Swift with no camouflage while it was being transported in a hauler. The vehicles, stacked tightly, can be easily mistaken for the current generation Swift, if not for the flab-y bumper and placement of badges.
Hardly a few hours ago, we posted a video of two 2011 Swifts testing somewhere in Europe.
Suzuki's Hungarian plant in the town of Esztergom, about 60 km north of Budapest will manufacture the new Swift for European customers. We expect the new Swift to debut in India next year.
The undisguised new generation Suzuki Swift is a design evolution of the current model. On first glance, the new Swift seems to have put on body mass. Its rear tail lamp is much like the existing car, except for the transparent patch over the indicator bulb.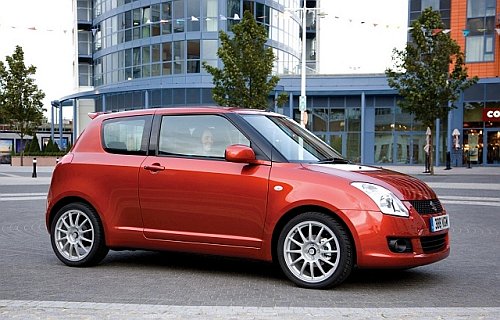 Current generation 3-door Suzuki Swift
Another noticeable change is the shape of the rear window. The four door model snapped here has the same rear window design as the existing 3-door model (above). The stop light on the bumper has slipped further down. The rear wiper and windshield appears to have been carried over. The "Swift" font style and size is different, if you look closely.
No head-on shots are available at the moment. but we have a photoshopped image with the Kizashi-nose stuck to the new Swift's front-end that'll give you a rough idea.
The new Suzuki Swift could be unveiled officially on Thursday (June 10). Stay tuned for more.
2011 Suzuki Swift latest updates
2011 Suzuki Swift to get VW engines/gearboxes?
2011 Suzuki Swift to get VVT and 1.5-liter engine
2011 Suzuki Swift Interiors revealed
2011 Suzuki Swift with 1.2-liter petrol engine
2011 Suzuki Swift based on a new platform
2011 Suzuki Swift to debut at Paris Motor Show 2010
Rendered - 2011 Suzuki Swift front-end
2011 Suzuki Swift close-up spy shots
2010 Suzuki Swift Spyshots Image Slideshow
can't view the slideshow above, visit the 2010 Suzuki Swift Spied Image Gallery directly
Want to know more about 2011 Suzuki Swift?
Why not subscribe to the Indian Autos Blog RSS Feeds to stay in touch
Image Source - Total Car Hungary