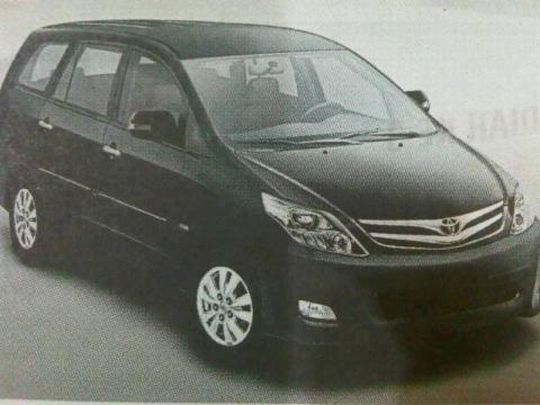 Those keeping pace with the auto industry on IndianAutosBlog.com will find this, like most other developments, as no surprise. We posted weeks ago about Toyota planning a facelift for either Innova or Avanza for a IIMS premiere in June.
Toyota Indonesia is planning a minor facelift for its MPV king – Innova. Being a mid life facelift, we can only expect a few minor exterior changes. There's no point for Toyota to revamp the Innova as customers find every aspect of the vehicle perfect for for long distance trips.
The 4 important changes that we can see so far are
• New headlamp design that extend in the bonnet
• New front grille
• The refresh look for the tail lamps
• Reflectors on the rear bumper
Back in November 2010, in-house image manipulator Shoeb R Kalania prepared a rendering and studied suitable additions to keep the Innova at the top of the table.
No mechanical elements seem to have been fiddled with. It may be possible that the interiors have also been lent a refreshed look and feel.
Things have been improving for Toyota Kirloskar Motor recently. The earthquake tragedy in Japan had a strong impact on Indian operations. But their production lines are back on track, the launch of Toyota Liva have been scheduled. Everything is jolly well.
Toyota India has not confirmed any news of changes to Innova so far.
Thinking from the company's perspective and considering the fact that the Innova is still rightfully attracting masses, Toyota indeed has no need to make changes to the Innova for now. But also remember that Maruti Suzuki with R3, Nissan with NV200, Ford with the 7 seat Fiesta MPV, GM with its Chinese vans will try to dethrone the Innova starting this year. Giving it a facelift would be like securing an anticipatory bail. It's preparing the Innova for the worst.
Don't you think so?
Toyota Innova facelift spyshots
Source - Wheelosphere.org