JokeForBlog has posted images of what it claims is the headlamp of the VW Up! rumored to premiere in France on the 22nd of August. Judging by the style of headlamps shown here, we assume each one resembles VW Group cars SEAT, Skoda and the VW's version of the Up! The Up! brand will give birth to a line of compact vehicles which should include a MPV. Its official debut could be at the Frankfurt Motor Show in September.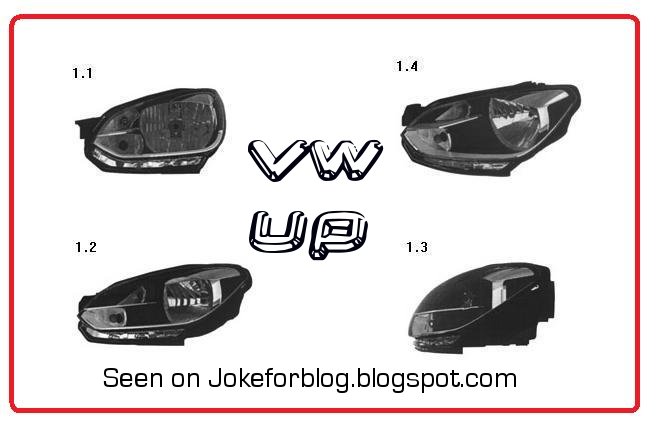 Buyers shouldn't be surprised to find the Polo's 1.2-liter diesel engine providing motive force to the Up! backed by a five-speed manual transmission. If the images shown here are indeed accurate, then you can expect to see them on cars that closely resemble the VW Up! concept cars.
The Up!/Lupo will be smaller than Polo in length, but the tallboy design brings with it the ease in ingress and egress. The build and quality, especially the interior outfitting is going to be a point of keen interest to us. Can Volkswagen produce an Etios with a quality of a Polo?
Volkswagen India hasn't confirmed the Lupo for India but sources in the company told Indian Autos Blog that rebadging Maruti products is out of question. We don't know of another small car under Polo in the works (VW India ruled out the Fox), so we're assuming this is what Volkswagen India mean when they say they are working on a car below Polo.
This is what VW India's spokesperson told me when I visited their plant last year -
No, the Fox is not our small car. We're discussing the "Up!" internally. We still don't know whether it is going to be Up! or another small car. Our next step is certainly a car below the Polo. It will have attributes of bigger Volkswagens like the Jetta or the Passat. Don't mistake me, we will not build a Nano. For safety and quality reasons, we'll not build one. We're looking at making a car a segment higher than the Nano.
We'll have the full details when VW is interested in sending it our way.
[Source - Jokeforblog.blogspot.com]