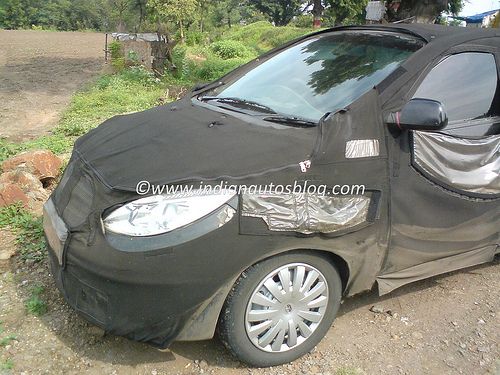 The Tata Indigo Manza will be launched in Mumbai on the 14th of this month. The Manza to the naked eye, is an Indica Vista with a bulky boot.
Interiors of the Manza will largely be the same except for the dashboard. Driver side dials and meters will feature instead of the Indica Vista style centrally mounted cluster. Tata will also use Fiat' Blue&Me bluetooth technology on this sedan.
Tata will offer one petrol and one diesel engine - the Safire petrol and Multijet diesel, both lifted from Fiat's closet. The 1.4 petrol will develop 95PS, while the 1.3 liter multijet is listed at 90PS.
The Indigo Manza was spotted by our regular reader Mr Darshan Sutar when he was on his way from Mumbai to Bangalore. The driver was livid when he noticed Darshan was clicking hysterically with his mobile phone. Darshan says the test mule's Fiat engine was no match to the 130PS Civic on the open road once the driver decided to chase him down and confiscate the camera.
In your dreams, Mr test mule driver.
Tata Indigo Manza Spied Image Gallery
If you cannot view the slideshow above, visit the Tata Indigo Manza Image Gallery directly