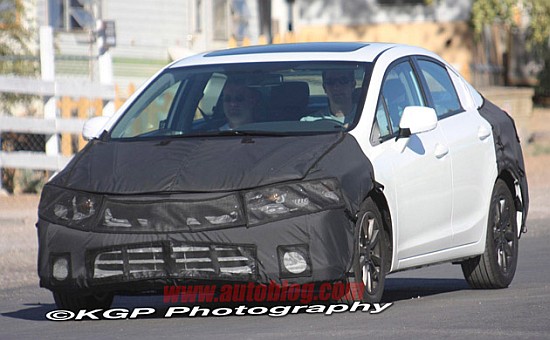 Other websites have already shown you images of the 9th Gen Honda Civic & now many of the test mules are out on the streets. Caught in the United States with a highly disguised front and rear, the new Civic does not look revolutionary.
The car gets hints of the new City at some places and it isn't as low slung as the present gen, which should be good for the Indian market, considering the fact that the present Civic has a poor ground clearance. The length of the car seems pretty much the same and the major changes will be seen at the front & the rear.
We can expect slight differences in the front and rear profile of the American & Asian version. Another point highlighted by the spy pics is that the rear does not seem to be very spacious. The flat floor should be carried over, so there shouldn't be problems with leg room.
This could also be a bad thing as one of the reasons why its direct competitor the Toyota Corolla Altis sells because of its phenomenal back seat space. Interior shots are not clear, but of what we can see, they remain similar to the current Civic. The 2-tier dashboard is present on the new Civic too.
Honestly, the new Civic is not quite an evolution that we were expecting. Although it is too early to comment on the looks, we get the feeling Honda could have done better. Anyhow, the part that concerns us are the engines. Honda desperately requires a diesel engine in this Civic. Sales have been going down month after month and the competition is not sitting numb.
The new Civic is expected to have a global debut in late 2011 & that is when we expect it to see it in India too. Watch this space for more.
For rest of the images head over to Autoblog