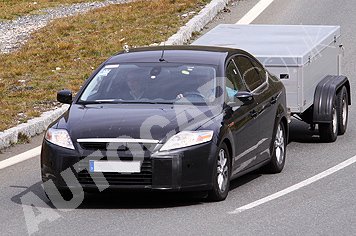 A one-on-one question and answer session yesterday with the top men from Ford India was arranged for Indian Autos Blog where the Ford management swiftly dodged questions on their small car.
But when asked about the Mondeo, Ford did not give a direct and clear reply. Instead, a cheeky smile on their faces conveyed something was cooking.
We get a gut feeling here - Don't be surprised if the Mondeo makes it to the Auto Expo 2010.
Caught testing here is the facelifted 4th generation Mondeo with changes to its front-end and interiors. The design will be finished abiding Ford's Kinetic Design philosophy. Under the hood, more fuel efficient engines are expected.
We don't know whether Ford will assemble this car here. We're not sure if they'll bring it in through the CBU route. We don't know much. All we know if Ford's top brass were acting slightly funny when we pitched this hot question to them.
Source - Autocar UK